At the just-concluded World Championships, Fraser-Pryce finished third in the women's 100m final.
Five-time World 100m champion Shelly-Anne Fraser-Pryce went into the just-concluded World Championships in Budapest, Hungary with the hope of defending her world title but unfortunately did not achieve the target.
She has a mixed season this year, having to pull out of many races due to an injury setback. Before the World Championships, she had only competed twice unlike her opponents who had competed multiple times.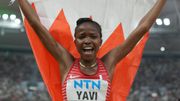 She also has her eyes set on next year's Paris Olympic Games where she will be returning for the second time.
She took to the start line for the women's 100m final and managed a third-place finish, an impeccable performance considering the challenges she has faced.
She was also in action for the 4x100m relay where she passionately competed for her country despite encountering a slight injury while competing. Team Jamaica finished second behind the USA whom they were used to beating.
However, despite the setbacks, Fraser-Pryce is not giving up on her career, and in a post on her Instagram page, she gave a glimpse of the rollercoaster she has been through and just went down memory lane.
She said: "As I contemplate lacing up my spikes again, I am moved by the warmth received by each and every one of you, and plan to continue honing my craft and representing my country.
Looking back 14 years from my first appearance at the World Athletics Championships and 16 medals later, it feels truly prolific.
A special "thank you" to the organizers whose swift response to my injury and recovery spoke volumes for their care and professionalism on and off the track."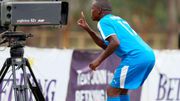 After a two-year blackout, Kenyan football is set to return to TV through an alliance between FKF and a prominent African sports broadcaster.
She also expressed love to her country saying: "Jamaica, the sweet land that I love, you are my heart, my backbone, and the literal catalyst pushing me against all odds.
Without a doubt, I am proud to be 'one of us'- as you all poured your support and care into me over the season. It was what kept me going."
In the face of injury, the multiple Olympic champion noted that she is not planning to quit or stop. She added that she will wait as she plans and works hard on her next adventure.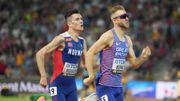 The Scottish middle-distance runner has fired back with fierce words following Jakob Ingebrigtsen's controversial remarks.
"Every chapter, no matter how it reads, always leads us to better preparation and execution when again we rise. So, get ready Paris, here we come," she said.