The Scottish middle-distance runner has fired back with fierce words following Jakob Ingebrigtsen's controversial remarks.
Scottish runner Josh Kerr beat Norway's Jakob Ingebrigtsen to the 1500m world title during the just-concluded World Championships in Budapest, Hungary.
This came as a surprise to Ingebrigtsen and he seemed to take the defeat seriously since he went to the race as a pre-race favourite and was primed for success.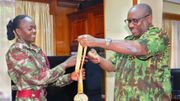 She won the 800m gold medal, making her the third Kenyan woman to win a gold medal at the World Championships.
He had to dig deep to defend his 5000m world title or else he would have exited the World Championships with double embarrassment.
After his 5000m victory, Ingebrigtsen made some comments to the media that were considered disrespectful considering his 1500m bitter loss.
"It won't be a big deal to try and race Josh Kerr again…he was just the next guy. If I hadn't run in the final, he probably would have won.
Obviously, if you stumble in a race, someone is going to win the race, he was just the next guy," a disappointed Ingebrigtsen said.
Kerr was not aware of the comments the 22-year-old made after the defeat and when asked about it during the pre-race press conference of the Diamond League Meeting in Zurich, Switzerland, Kerr kept his cool while answering the media.
"Emotions are high in front of the media and I know he wanted that 1500m world title. But you know what, he can be disrespectful to me that's fine, I still hold the World Championships gold medal and I'm going to be the world champion for the next two years regardless of his comments.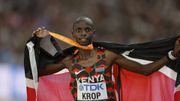 Ingebrigtsen clocked 13:11.30 to cut the tape ahead of Spain's Mohammed Katir and Jacob Krop who finished second and third respectively.
I obviously don't love disrespectful comments and you know I have worked hard to get to that position and I beat him on that day.
But if that's the route he wants to take that's fine with me, I'm kind of unbothered by it," he said.