Moraa became the third Kenyan woman to win a world title in the 800m on Sunday night.
Newly-crowned World 800m champion Mary Moraa does not fail to disappoint after winning a race and Sunday night was no exception for her.
After crossing the finish line at the National Athletics Stadium in the Hungarian Capital, she broke into a dance, something that many people find extremely interesting and unique.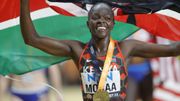 Kisii Express added the world title to her collection after running a tactical race in Budapest to win Kenya the women's 800m gold for the first time since 2013
But what is the secret behind the Commonwealth Games 800m champion's dancing technique after a race?
In a post-race interview, Moraa said: "It's my slogan since Birmingham…that's where I started dancing. When I'm in the stadium, when I finish the race I first entertain my spectators."
She added that winning the world title and going unbeaten in the 800m this season is a huge achievement for her.
Moraa tactically floored Great Britain's Keely Hodgkinson and USA's Athing Mu and won the race in a Personal Best time of 1:56.03. Hodgkinson and Mu were forced to settle for second and third places respectively.
"It's a big achievement to me, my family, my coach, and my boyfriend also. I'm so happy for the race and so happy for the win.
During the race, I was wondering about the type of medal I was going to win but I'm happy I finally settled for the gold," she said.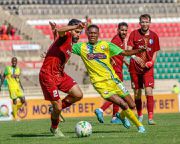 Al Hilal schooled Kakamega Homeboyz 4-1 away in Libya, making it a forgetable debut continental away outing on Sunday evening.
She recounted the tough race and revealed the reason why she chose to stay behind Mu, who was going into the race as the defending champion.
"When we started the race Athing was in the front then Keely came then I decided to follow. At around the 150m mark, I decided to push myself extra hard and at the 50m mark, I decided to part myself away from them," Moraa said.