Elaine Thompson has shared an inspiring message after joining Shelly-Anne Fraser-Pryce's coach ahead of the Olympic Games next year.
Multiple Olympic champion Elaine Thompson has been the talk of the town recently after splitting with her coach, Shanikie Osbourne, less than a year before the Olympic Games.
The Jamaican has faced criticism for her actions that saw her split with the tactician due to contract issues.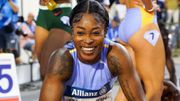 Jamaican sprint queens Elaine Thompson-Herah and Shelly-Ann Fraser-Pryce will now train under the same stable after the former chose the latter's coach as her new tactician
She remains unshaken by what the public has to say concerning her actions and she posted on her X (Twitter) handle saying: "Out of difficulties grow miracles. Happy Monday. #roadtoparis2024#thejourney#myfaith#believe#preseverance#dedication#pride#champion#triplegold#history."
Thompson has been through it all, from going through psychological challenges and suffering an injury setback that made her 2023 season a disaster.
She failed to make the Jamaican national team cut in an individual event for the World Championships but posted promising times after the global event.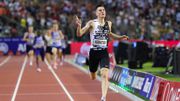 The two-time European Cross-country champion is set to miss this year's European Cross-country Championships after an injury setback.
Follow the Pulse Sports Kenya WhatsApp Channel for more news.
After the World Championships, she competed at the Diamond League Meeting in Zurich where she finished third in the 100m.
Thompson then proceeded to the Gala dei Castelli where she clocked her first sub-11 performance to win the race. She then competed at the Diamond League Meeting in Brussels and won and set her season-best time of 10.84.
Her final race of the season was at the Prefontaine Classic, the final Diamond League Meeting where she finished an impressive third.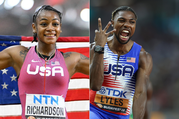 World 100m and 200m champion Noah Lyles bagged another major award as compatriot Sha'Carri Richardson was also recognised at the American athletics gala.
Her 2024 season bears good news since she has now reunited with Multiple World champion Shelly-Anne Fraser-Pryce, and they will both be training under coach Reynaldo Walcott.
Thompson is the Olympic defending champion in the 100m and 200m individual events and she will have her work cut out if she has to make a mark on the global showpiece one more time.