World 100m and 200m champion Noah Lyles has hit out at the US for not being 'crazy' about athletics like Europe yet they produce global stars.
World 100m and 200m champion Noah Lyles has aimed another dig at his country the United States for lacking a great atmosphere at most athletics events compared to Europe.
During a conversation with Liberian-American sprinter Joseph Fahnbulleh regarding the state of athletics and what athletes go through in pursuit of success, Lyles agreed with his colleague's observation about the flat atmosphere witnessed in most events in the US.
"Fans in Europe are so crazy, they are knowledgeable about every person that is in the heat. Not just about the track but about every event. From Mondo [Armand Duplantis] to us to Erriyon [Knighton] to Faith Kipyegon, they know everybody," said Fahnbulleh during the conversation on Lyles' YouTube channel.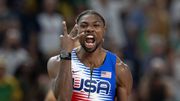 Three-time world 200m champion Noah Lyles has explained one big disappointment in 2022 that saw him decide to run the 100m at this year's World Championships in Budapest
"Fans in the US," Fahnbulleh went on, before Lyles interjected, "They know the heaviest hitters sometimes, they know their favourites."
Fahnbulleh added: "But the atmosphere, the only atmosphere that was big was at Prefontaine Classic because it was a big crowd. There is Texas relays but it is not just the same."
Lyles then shared his experience of running in the US compared to Europe while stressing the need for the country to focus more on getting young people to love the sport.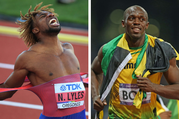 The former 200m world record holder has explained what it would take world 200m champion Noah Lyles to break Usain Bolt's 19.19 record that has stood since 2009.
"The New York Grand Prix has actually been having a better environment like I have actually walked out and they get excited. Sha'Carri [Richardson] came through, she walked out and these people started losing their mind, by far the best atmosphere for the youth," said Lyles.
"It is a completely different vibe in Europe and you will get stopped by five people asking for your photograph outside the hotel. But still, there is a lot of potential in the US. We just haven't hit those major cities like New York, Virginia, LA, Texas, Atlanta."
It is the second time Lyles is aiming a dig at his country after his 'NBA world champions' jibe following his gold medal heroics at the 2023 World Championships.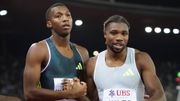 Noah Lyles has called upon teammates Kenny Bednarek and Erriyon Knighton to go for the 4x200m world record that is currently held by team Jamaica.
Lyles said athletes do not get the respect they deserve after winning gold medals in global events yet NBA players are called world champions when they have won the championship in the US.
"You know the thing that hurts me the most is that I have to watch the NBA finals and they have "world champion" on their head. World champion of what? The United States? Don't get me wrong," Lyles said in August.
"I love the US at times, but that ain't the world. That is not the world. We are the world. We have almost every country out here fighting, thriving, putting on their flag to show that they are represented. There ain't no flags in the NBA."
Follow Pulse Sports WhatsApp channel for more news.