Noah Lyles has called upon teammates Kenny Bednarek and Erriyon Knighton to go for the 4x200m world record that is currently held by team Jamaica.
Triple World Champion Noah Lyles is not resting on his laurels as he plots a return to the track with lofty ambitions.
Lyles, the two-time World 200m champion has called upon his teammates, Erriyon Knighton and Kenny Bednarek to join him as they bid to break the 4x200m relay world record at the World Athletics Relays to be held in the Bahamas next year.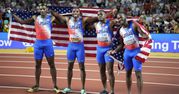 The sprint sensation has revealed how they clinched the World Athletics Championships relay gold under challenging circumstances.
The 26-year-old had led Team USA to a staunch world championship victory in Budapest in the 4x100m race and he wants to do the same in the 4x200m relay in Bahamas with the world record in sight.
In a post on his X (Twitter) handle, Lyles said: "Yo @ErriyonK @kenny_bednarek we should go break that 4x200m world record."
Meanwhile, Lyles has basked in glory in the 2023 season, being beaten only once in the 100m in the major races. He tasted his first major loss at the Prefontaine Classic, the final Diamond League Meeting held in the USA.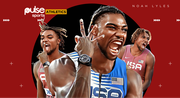 Noah Lyles gave everything Track and Field needed this season both on and off-track. While some of the nominees gave only exceptional competition performances, the American speedster showed that an athlete can be an all-rounder, and so he is the most deserving of the Men's Athlete of the Year Award.
Over the 200m, Lyles has been unbeaten the whole season and will surely be keen to extend the winning streak to the Olympic Games next year.
The American was on fire at the World Championships in Budapest, Hungary, bagging the 100m title and successfully defending his 200m title. He also led his team to victory in the 4x100m relay.
Follow the Pulse Sports Kenya WhatsApp Channel for more news.