Despite Kipchoge being the fastest marathoner in the world Rotich argues that he is not the best in Kenya.
Long-distance runner Nickson Biwott Rotich believes that world marathon record holder Eliud Kipchoge is not the fastest marathoner in Kenya.
Despite Kipchoge being the fastest marathoner in the world and being known as the Greatest of All Time in the distance, Rotich argues that if other athletes are given the platform Kipchoge was given, they are able to break the two-hour barrier.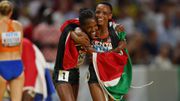 Exiting this year's World Championships in Budapest, Hungary, Kenya finished fifth on the medal table.
Kipchoge also made history to become the first man to break the two-hour barrier and Biwott has insisted that two-time Boston Marathon champion, Evans Chebet has the ability to do so.
Speaking in an exclusive interview with Carmichael Caldwell, Rotich said: "Everybody here is Kipchoge…it's just the opportunity to do enough, that's the only thing.
"If you get any opportunity to run like Kipchoge did, it's easy to break 1:59:00. There are guys in Kenya who are faster than Kipchoge. It's just the opportunity that we lack. When you watch the Boston Marathon, this guy called Evans Chebet beat Kipchoge."
He added that Kelvin Kiptum, the second fastest marathoner in the world has the ability to do much better than Kipchoge. If given an opportunity, Rotich believes that Kiptum can do wonders.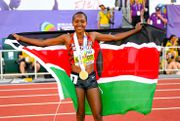 The fan insists Kipyegon gave him the gift "as a token of appreciation for the support over the years" after watching her run in person numerous times.
"If that guy (Kiptum) is given the motivation, the way Kipchoge has been motivated. That guy can run and break many records," he added.
He added that there is so much talent in Kenya and there are athletes who are unknown but have lots of pedigree.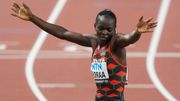 Moraa became the third Kenyan woman to win a world title in the 800m on Sunday night.
"Such performances show that we are better than him…we have more. It is just proof that his people are better than him," he said.