Last year, the model of the vehicle was displayed to the public and it is finally here.
World Marathon record holder Eliud Kipchoge is humbled to have been honored by Isuzu East Africa as the official brand ambassador of the Eliud Kipchoge 1:59 Limited Special D-Max Edition double cabin pick-up.
Last year, the model of the vehicle was displayed to the public, and at the time Rita Kavashe, the Isuzu East Africa General Manager had revealed that the car's features will be custom-made to the values that make Kipchoge a success.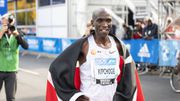 The cash prize is one of eight prizes awarded for outstanding work in areas such as the arts, communication, scientific research, and literature.
The long wait is officially over since the vehicle was unveiled during a special ceremony on Thursday morning at the Isuzu East Africa the automobile manufacturing firm along Mombasa Road.
Kipchoge was over the moon and he expressed hope that it will be a source of inspiration for the youngsters to keep working hard.
"This is a great day…it is history in this country. It is such a great honour and I think this is an example to the whole world. It is proof to the young generation that hard work pays.
I hope it is inspiring to the youngsters that they should set their priorities right and they will be rewarded in the future," the two-time Olympic Marathon champion said.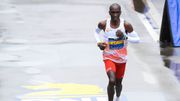 Kipchoge went into the race as a pre-race favourite but unfortunately failed to deliver as he settled for sixth place in 2:09:23.
The feat came after Kipchoge became the first man to run a marathon under two hours during the INEOS 1:59 Challenge in Vienna in 2019. He clocked 1:59:40 to cross the finish line.