A look into what former world marathon record holder Eliud Kipchoge likes to eat.
Every athletics fan is always interested to know what their favourite athlete likes to eat or how they conduct their training to be able to achieve great milestones.
Former world marathon record holder, Eliud Kipchoge is one of the greatest athletes of all time, and his sacrifice and watching what he eats are some of the key things that have propelled him to victory.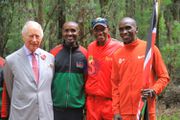 The marathon legend flagged off the race alongside the King of Britain, who is in Kenya on a four-day trip
In an interview with sports dietitian Meghann Featherstun, the five-time Berlin Marathon champion disclosed that oatmeal is one of his favourite meals and he even had the meal for breakfast on his way to victory at the Berlin Marathon.
When asked what he had for breakfast before clinching his fifth victory in the streets of Berlin, Kipchoge said: "Oatmeal…it is my favourite meal."
The interview did not go on but as per Runners World, exercise biochemist Armand Bettonviel, who develops nutrition plans for elite athletes, including Kipchoge, also shared in previous interviews that he also has a certain type of protein porridge to help with recovery after training.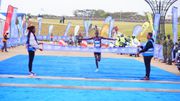 Alphonce Kigen has narrated the past setbacks that propelled him to victory at the Standard Chartered Nairobi Marathon.
They further noted that Bettonviel disclosed that Kipchoge's meals feature Kenyan staples such as ugali, potatoes, rice, chapati, managu, beans, whole-fat milk, eggs, chicken and beef.
He only eats meat on about half of the days in the week, so to up his protein intake, Kipchoge drinks mala, which is high in protein.
Follow the Pulse Sports Kenya WhatsApp Channel for more news.
Meanwhile, Kipchoge has managed to make a name for himself owing to his impeccable performances on the roads.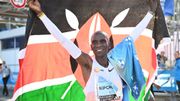 AK Youth and Development chairman Barnaba Korir has disclosed how they are planning to select a formidable marathon team for the Olympic Games next year.
He is one of the greatest marathoners, and he will be eyeing more success as he heads to the Olympic year. Kipchoge will bid to become the first man to win his third successive Olympic title in the marathon.