The central midfielder contract duration at Ingwe unveiled, sealing his commitment to the club's rich history and future successes.
Experienced winger Kevin Kimani has officially returned to Football Kenya Federation Premier League side AFC Leopards, signing a two-year contract that marks his triumphant comeback to the former club.
The dynamic midfielder, once crowned the Footballer of The Year in 2011, is set to adorn the revered jersey number 36 as he steps onto the field for Ingwe once again.
Having initially graced the den's pitch back in 2017, he now rejoins the squad as a free agent, fresh from his tenure with the coastal powerhouse Bandari.
Speaking with excitement about his homecoming, Kimani eagerly expressed his gratitude, saying,"It's a privilege joining one of the biggest clubs in East and Central Africa, with a rich history of success. My vision has never changed. I am here to assist and score goals (many goals). One game at a time and we will reach our goals."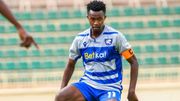 The young defender seems to have no hard feelings following his exit from Ingwe and has wished the 12-time Kenyan champions well for the new campaign
Kimani's football journey has seen him traverse various continents and leagues. He embarked on his professional career with Kenya Commercial Bank (KCB) before becoming an integral part of Mathare United.
His talent then transcended borders as he ventured to Belgium in 2012, signing up with Third Division side Bocholter.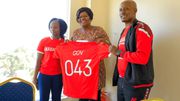 Tore Boebe prepares for Premier League debut, thanking Homabay Governor for stadium use and generous support.
The Greek club Fostiras came calling next, where Kimani showcased his skills in nine appearances before heading to South Africa to don the colours of Jomo Cosmos.
However, his heart never strayed too far from his homeland, prompting his return to Kenya where he first joined Tusker and then AFC Leopards.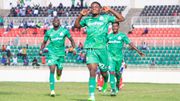 The FKF Premier League bursts alive as defending champions Gor Mahia lead a day of football fireworks, igniting passionate rivalries.
In an unexpected move in 2017, Kimani ventured to the Saudi Arabia First Division side Al Hazam, only to terminate his contract a few weeks later.
The following year, he donned the jersey of Sofapaka before making a shift back to Mathare in 2018. His footballing journey took another turn in 2020 when he left Mathare for Wazito FC, and eventually found himself in the ranks of Bandari in 2022.