The Wekundu wa Msimbazi's star defender Che Malone survives a car crash in Dar es Salaam, club and fans rally in support.
Tanzania Premier League side Simba SC was shaken to its core on Sunday as news emerged of a harrowing car accident involving their star defender, Che Malone Fondoh Junior.
The 24-year-old Cameroon international miraculously escaped serious injury after a dramatic crash that occurred around Mikocheni in Dar es Salaam at the break of dawn this Sunday, September 24.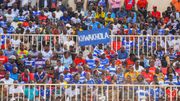 AFC Leopards, facing financial woes, aims to revamp fans' experience by launching a new ticketing system.
In the dark hours of the morning, Che Malone Fondoh Junior was on his way back from the airport, where he had gone to pick up a visitor. Little did he know that this journey would turn into a life-altering experience.
A shocking video that has since gone viral captured the terrifying moments after the accident. Che, who had been seated in the ill-fated car, could be seen picking up the shattered remnants of his personal belongings amidst the twisted wreckage. The grim footage revealed the severity of the crash and the sheer luck that Che survived with only a few cuts and bruises.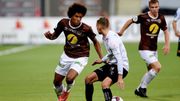 Scriven made a statement after netting a brace for Hodd, while Linton Maina's Koln are still searching for their first Bundesliga win of the season.
However, the same fortune did not extend to the car's driver, who sustained serious injuries in the accident. Both Che Malone and the driver were promptly rushed to the hospital, where medical teams are working tirelessly to ensure their swift recovery.
As the Simba SC community anxiously awaits updates on their cherished defender's condition, they also ponder the future of their star player. It remains uncertain if Che will be able to return to first-team activities immediately.
Che Malone Fondoh Junior had made an indelible mark on Tanzanian football since his arrival, having spent the past two seasons at Cotonsport of Cameroon before joining Simba.
During his time at Cotonsport, he achieved tremendous success, winning numerous accolades and earning the respect of fans and fellow players alike. His transition to Simba had been seamless, and his contributions to the team's successes were undeniable.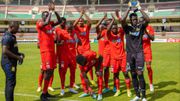 Kenya Police FC Chairman Nyale Munga expresses anger and promises changes following a series of disappointing results, vowing to improve.
This accident could not have come at a worse time for Simba SC. Just days ago, they faced a devastating blow as Che's primary defensive partner, Henock Inonga, suffered a grievous injury during their recent league game against Coastal Union.
The double blow to their defensive lineup leaves the team in a challenging position as they strive for continued success in the league.