The Standard Chartered Nairobi City Marathon will be celebrating its 20th anniversary but there has been a lot of controversy surrounding the event, will this edition be different?
The Standard Chartered Nairobi City Marathon is one of the most lucrative marathons in Kenya but is usually surrounded by many controversies.
As it marks its 20th edition, running enthusiasts will be hoping for a different turn of events as they take on the course on Sunday, October 29. One of the most controversial events that has been a frequent occurrence in the marathon is the lack of accuracy on the winners.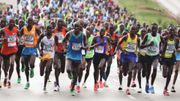 The Standard Chartered Nairobi Marathon offers hefty prize money for athletes who do exemplary well.
Most of the time, even during last year's edition, there was a certain confusion when it came to identifying winners of the race.
One of the other memorable moments of the confusion was during the 2015 edition where Julius Njogu unfairly crossed the tape. Action was to be taken against him but the police declared him a free man.
As reported by Standard Sport, the police noted that Njogu committed no criminal offense just by merely participating in the 2015 edition of Standard Chartered, Nairobi Marathon and allegations of 'unfairly crossing the tape have no basis in Kenyan law.'
Meanwhile, race organisers have revealed that over 21,000 runners have already confirmed participation in the marathon set to start at the Uhuru Gardens. It was noted that athletes from over 90 countries have confirmed participation.
The marathon has been divided into five categories including 42km and corporate relay, 21km wheelchair, 21km, 10km, and 5km family races.
The 42km and the corporate relay will start at 6 a.m., while the 21km wheelchair race is scheduled to begin at 5:45 a.m. The 21 km race will start at 6:45 am, the 10km race at 8 am, and the 5 km family race at 9:30 am.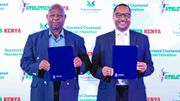 AK has been a vital channel in linking athletes to the Standard Chartered Nairobi Marathon since 2003, helping to launch athletic careers.
Follow the Pulse Sports Kenya WhatsApp Channel for more news.