After Eliud Kipchoge's victory at the Berlin Marathon, Miguna Miguna shared a tweet that sparked reactions from some of his fans.
After Eliud Kipchoge's victory at the Berlin Marathon, many Kenyans took to their social media pages to congratulate him and politicians were not left behind.
One tweet, specifically from Lawyer Miguna Miguna who tweeted saying: "Congratulations, Eliud Kipchoge. You have made history. Now, retire when you are on top! Viva!"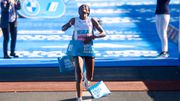 Ethiopia's Tigist Assefa astounds the world, shattering the women's marathon record by over two minutes in Berlin, confessing, "I didn't expect."
His tweet elicited reactions from some of Kipchoge's fans who still believe Kipchoge has the strength to run. However, others believe the 38-year-old should retire and leave the chance for upcoming runners.
One user, Ras John Njui said: "Retirement would be a bad financial decision. Kipchoge can still keep minting cash for another good 5 years just for appearing at these races. He does not have to win."
Richie Kibet also believes Kipchoge can still continue running or just retire because he has already made a name for himself.
He said: "Radcliffe still gets paid to appear in races age doesn't run, Kipchoge is a big brand he can retire when he wants and still be a topic for years to come."
Another user, Anto Simiyu, posted saying: "Yeah, he should retire. Don't be like Raila Odinga."
Zamu Hajji, also seemed to defend Kipchoge saying that he has all it takes to compete next year and his age is not a big deal.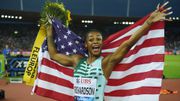 Richardson clocked a world-leading time of 10.65 to win the 100m at the World Championships but she has explained why it was not her perfect race of the season.
She said: "He expressed his intent to channel all his accumulated experiences into the next year's Olympics. 38 is the new 18 in sports."
Nyumu Ndilo, another user, added saying: "Even a good dancer knows when to leave the stage."