Kelvin Kiptum has shared his ambitions of making sure he continues running for the next 10 or 15 years and win as many races as he can.
Reigning world marathon record holder Kelvin Kiptum is not afraid of the longevity in his marathoning career.
Many experts have revealed that since he started his career at a young age, 23, his longevity in the sport is not guaranteed but Kiptum thinks otherwise.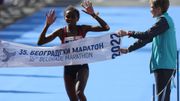 Lucy Mawia reigned supreme in Soria in 2021 and 2022 and she will be keen to bag her third title this year.
The Valencia Marathon champion explained that he plans to keep running for the next 10 to 15 years and win as much as he can.
Follow the Pulse Sports Kenya WhatsApp Channel for more news.
"My ambition is to run at the top of the marathon in the next ten or fifteen years and win as much as possible. But nothing guarantees that.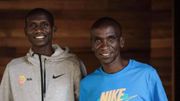 Joshua Cheptegei has shared why he thinks Eliud Kipchoge is the greatest marathoner as he gears to emulate the Kenyan at the Valencia Marathon.
"My secret is training, running many kilometers a week. I'm not afraid of that, but you can always get injured. What then? Besides, I don't walk alone.
"Tamirat Tola (an Ethiopian runner) won the New York Marathon in 2 hours, 4 minutes and 58 seconds. The course there is very difficult, so that was a great time. You never know how good he will be in Paris," Kiptum said as per De Tijd.
Just at 23, Kiptum has already made history in all the marathons he has competed in. He made his debut at the Valencia Marathon last year where he clocked the fastest time in a debut to win the race.
He then proceeded to the London Marathon earlier this year and clocked the second-fastest time in history to clinch top honours. Kiptum then shattered Eliud Kipchoge's world record time of 2:01:09 at the Chicago Marathon after cutting the tape in 2:00:35.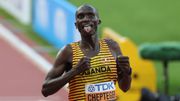 Joshua Cheptegei has reacted to Kelvin Kiptum's Valencia Marathon debut and disclosed whether he will go for the course in his debut on the same course.
In April next year, he will take part in the Rotterdam Marathon and then, most importantly, the Olympic Games in Paris.
If he wins gold there, he will have achieved most of his goals and there will most likely be no challenge for him but he promised that he will continue running despite having achieved great milestones already.