Petros clocked 2:04:48 to break the German marathon record, thanks to his sacrifice to train in Kenya.
Amanal Petros made a name for himself at the Berlin Marathon when he trotted to the finish line to break the German record and qualify for the Paris Olympic Games in 2024.
The German finished ninth clocking 2:04:48 to completely obliterate the previous record, thanks to his unwavering effort and hard work in Germany's premier marathon.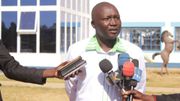 The Uasin Gishu County Government had confirmed to fully support the Eldoret City Marathon organisers but they unfortunately withdrew leaving the organisers in jeopardy.
The win did not come easy for the 28-year-old since he had to leave his home and travel to Kenya to sharpen his talons. He spent close to three months training in the East African nation and his hard work paid off well.
"My plan was to run fast and for me, the best motivation was the fantastic atmosphere around the course. I had a slight problem with my legs but then the atmosphere really got me pumped up.
"Seeing Eliud Kipchoge also brought me joy and I appreciate everyone who encouraged me," he said.
He expressed his delight to have made those significant steps and noted that it was not a walk-in-the-pack training in Kenya.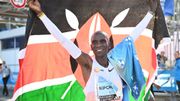 After Kipchoge made a post on his page, an American long-distance runner made a disrespectful comment and fans did not let him breathe.
In a post on his Instagram page, he gave a glimpse of what the journey was like training in Kenya.
"These past couple of months in Kenya consisted of nothing but training, sleeping, and eating. Every single day it was the same thing over and over and over again, I never worked so hard in my life.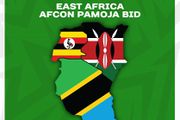 CAF recently awarded Kenya, Uganda, and Tanzania the 2027 AFCON, with the three nations presenting a major stadium for the final.
"Staying so disciplined and focused was not easy, to say the least, but it was worth every single second because I accomplished my goal," he said.
He did not have a great upbringing and making such an achievement is a great milestone for him. Petros was just two years old when his mother escaped from Eritrea with him, settling in Tigray in northern Ethiopia. In 2012, he went to Germany as a refugee.