After Kipchoge made a post on his page, an American long-distance runner made a disrespectful comment and fans did not let him breathe.
After his victory at the Berlin Marathon, Eliud Kipchoge expressed his disappointment towards missing out on the world record but was happy to have won his fifth title.
Kipchoge, 38, shared his joy on his Twitter page and posted saying that he finds joy in inspiring people.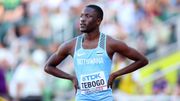 Botswana's sprinter, Letsile Tebogo, overcame injuries during his debut 2023 season, securing Olympic qualifications and two World Championships medals.
"If I can inspire someone somewhere in the world, that is my happiness," he said in the post.
However, Reid Buchanan, an American long-distance runner, did not seem to be impressed by Kipchoge's tweet and he replied to his tweet saying: "Give me a break."
Matters escalated when the 2018 Boston Marathon champion Desiree Linden liked Buchanan's comment.
Kipchoge's fans did not give the duo a break as they went for their necks. One user, Colin Raunig, commented on the post saying: "Desiree Linden, why did you like this tweet? You're better than that."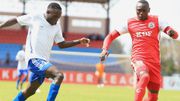 Sofapaka faces fan backlash over inconsistent jerseys amidst sponsorship woes, highlighting the club's financial struggles since Betika's departure.
He added another tweet saying: "Real men achieve, hacks criticize the real men who achieve. Guess that makes you a hack."
Another attacked Buchanan saying: "And what have you done? Silver medal in the Pan Am Games? Jealous much?"
Travis Rogen also commented saying: "Dude you would have lost by 11-12 min in Berlin and prob beat by the top 1-2 women."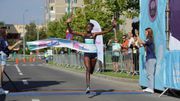 Ngetich broke the women-only world 10km record at the Trunsylvania 10km but her record will not be ratified.
Chris Gregory also came to Kipchoge's rescue as he commented saying: "Listen to all his interviews. They all sound like this. Kipchoge is a down-to-earth dude."