36-year-old Florence Kiplagat will be looking to end her season on a high at the Dublin Marathon after faltering at the Gold Coast Marathon earlier this year.
Former World Half Marathon record holder Florence Kiplagat will be looking to soothe her Gold Coast Marathon heartbreak with a win at the Dublin Marathon.
Competing at the Gold Coast Marathon earlier this year, Kiplagat was hopeful of finishing in the podium bracket but unfortunately faded to finish sixth. She however has another chance to compete and hopefully finish in the top three.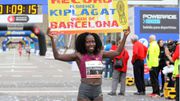 Kiplagat has been out of competition for close to four years due to injury setbacks and the Covid-19 pandemic.
The 36-year-old has just come back into competition in 2023 since her last race back in 2019. She was out of competition for the past four years due to a series of illnesses and the worldwide COVID-19 disruption.
She will now be competing in her second race this season scheduled for Sunday, October 29 in one of Ireland's biggest marathons.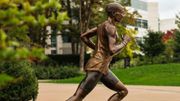 Eliud Kipchoge has been honoured by his sponsor, Nike, with a track under his name and a statue at the headquarters in Beaverton.
The Kenyan will not have an easy time securing her dreams since the race has also attracted several strong women. Defending champion Nigist Muluneh of Ethiopia will be making a return, hoping to secure back-to-back titles.
The Ethiopian has been in impeccable form this season, clocking a Personal Best time of 2:27:41 this year when racing in the Riyadh marathon in Saudi Arabia.
She will enjoy the company of compatriots Amente Sorome Negash, Genet Habela Abdurkadir, and Hawi Megersa who are also among the top women in the elite field.
Negash is the second fastest in the field and she will also be vying for a seat on the high table owing to her impressive form this season. Abdurkadir and Megersa line up as the fourth and sixth-fastest in the field and the duo will be looking for triumph in the streets of Ireland.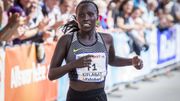 Her last competition was during the 2019 Outdoor Meeting in Israel where she competed over the 10,000m and finished third.
Another potential threat is Hanane Qallouj, who lines up as the fifth-fastest in the field. She has a Personal Best time of 2:31:27 and she will be on a mission to dethrone the Ethiopians.
Follow the Pulse Sports Kenya WhatsApp Channel for more news.