Assefa made her marathon debut last year and setting a world record this year has raised eyebrows.
Newly-crowned world marathon record holder Tigist Assefa is now a person of interest for many athletics enthusiasts.
Competing in just but her third marathon, the Ethiopian managed to shatter Brigid Kosgei's world record time. She clocked 2:11:53 to win the Berlin Marathon on Sunday and completely annihilate Kosgei's world record time of 2:14:04.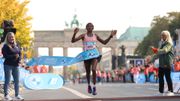 Assefa completely destroyed Brigid Kosgei's world record and her efforts will be awarded handsomely.
However, her performance has raised eyebrows from fans who have been questioning her gaps in the competitions.
Assefa made her marathon debut at the 2022 Riyadh Marathon where she finished seventh in a time of 2:34:01 before heading to the Berlin Marathon where she won the race in a time of 2:15:37. She then returned to the streets of Berlin this year where she set the world record.
One Twitter user, Jonathan Levitt, took to his page and questioned the progression of the Ethiopian.
He posted saying: "Let me get this straight… debut marathon -> WR and going from 2:34 to 2:11 in 18 months???? Noted."
Assefa has not been racing for quite some time now and that has also been a point of concern. She took a break in 2020 and 2021 but it was noted that she had been suffering from injuries that slowed her down.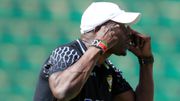 Francis Baraza, nursing an injury, focuses on mending Kenya Police FC's issues following an intense 2-2 draw with AFC Leopards.
However, her time progression still remains to be a mystery to many people who believe it's almost impossible to post such times after running three marathons.