Assefa completely destroyed Brigid Kosgei's world record and her efforts will be awarded handsomely.
Ethiopia's Tigist Assefa will definitely be walking to the bank smiling after her hard work paid off handsomely at the Berlin Marathon.
The Ethiopian went into the race as the defending champion and she had a lot of pressure to deliver. She defied all odds to clinch the title and shatter the previous world record that was held by Kenya's Brigid Kosgei.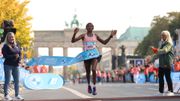 Tigist Assefa displayed her prowess in the streets of Berlin to win the race in a time of 2:11:52.
Kosgei broke the previous record during the 2019 Chicago Marathon where she destroyed a strong field to win the race in 2:14:04. Assefa lowered that time after clocking 2:11:53 to successfully defend her title.
For her win alone in Berlin, she will pocket Ksh 7,355,000 and for breaking the world record, she will get an additional Ksh Ksh 7,355,000.
According to the Berlin Marathon prize money allocations, the second-place finisher will bag Ksh 3,751,050. The third and fourth-place finishers will walk away with Ksh 1,838,750 and Ksh 1,103,250 respectively.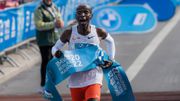 Eliud Kipchoge has stamped authority one more time as the marathon GOAT after bagging his fifth title at the Berlin Marathon.
The fifth-place finisher will bag Ksh 735,500 while the sixth-place to 10th-place finishers will walk away with Ksh 441,300 each.
The athletes who finish within 2:03:30 (men) and 2:19:00 (women) will bag an additional Ksh 4,413,000.
The Berlin Marathon's prize money allocation is a proof of growth since back in the day, the winner took home a modest Ksh 147,100. However, over the years, the marathon's prestige and the financial resources of its organizers have transformed it into one of the most lucrative marathons in the world.