Francis Baraza, nursing an injury, focuses on mending Kenya Police FC's issues following an intense 2-2 draw with AFC Leopards.
Kenya Police FC head coach Francis Baraza has displayed unwavering determination to rectify the shortcomings of his team following a hard-fought 2-2 draw against AFC Leopards at the Moi International Sports Centre Kasarani on Saturday afternoon.
The thrilling encounter witnessed early excitement as Kenneth Muguna opened the scoring for Kenya Police in the 6th minute, skillfully finding the back of the net from close range.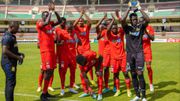 Kenya Police FC Chairman Nyale Munga expresses anger and promises changes following a series of disappointing results, vowing to improve.
However, AFC Leopards responded swiftly just nine minutes later, with Mahiga brilliantly setting up Brian Yakhama in the box to level the match, setting the stage for an intense contest.
In the 60th minute, Kenya Police conceded a penalty, converted with precision by Cliff Nyakeya, propelling AFC Leopards into the lead for the first time in the match.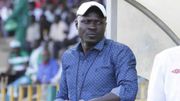 AFC Leopards coach Tom Juma, besieged by angry fans, escorted by police after disappointing draw against Kenya Police FC.
Nevertheless, the resilient Kenya Police squad managed to salvage a valuable point with a last-minute goal, courtesy of Toha Rashid.
Coach Baraza, visibly determined despite his bandaged left leg and crutches, commended his team for their unwavering spirit in the face of adversity.
"I congratulate my boys for fighting hard and restoring parity. It was a very tough game. We scored early, and they found an equalizer in a short time," he said.
"In the second half, our opponents were strong, and we were beaten through set pieces. It is not always easy to defend against such situations."
However, Baraza expressed concern about a recurring trend, adding, "This is the second match in which the boys have come from behind and equalized. If you look at the match against Shabana, it was a similar situation. We will assess where the problem lies and rectify it."
The coach, though visibly nursing a leg injury, chose not to discuss his condition during the post-match interview, focusing instead on the team's performance and future prospects.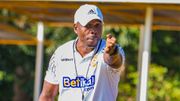 Kenya Police FC's coach, Baraza, issues a bold threat to AFC Leopards, promising to arrest their hopes in an upcoming match.
Kenya Police's quest for their first victory of the season continues, as they gear up to face Bidco United in another highly anticipated Football Kenya Federation Premier League match next weekend.
The Law Enforcers, who finished third last season, have played four matches so far this season but have yet to secure a win, leaving Baraza with a significant challenge on his hands.