The Kibera community heroes have bagged a major award from Premier League champions Manchester City who will now visit Nairobi courtesy of their win
Kenyan girls Mercy Mwache and Pauline Njau from Kibera slums have won a major prize from Premier League champions Manchester City after their project claimed the Water Heroes Academy award.
The young leaders were feted for using football to tackle period inequality and improving access to safe water, sanitation, and hygiene (WASH) in Kibera where access to clean, safe water is a major challenge.
The two and their team have been using the power of football to create awareness of water challenges and to educate girls on using clean water for sanitation and hygiene during their period.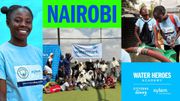 The two girls from Kibera slums have been nominated for Manchester City's Water Heroes Academy which comes with several benefits for them and their community.
Thanks to their win, Nairobi will receive a special Manchester City visit to their project, including a visit from a Club Legend and additional training from Manchester City coaches in the Football and Water Education curriculum.
"We're absolutely delighted to have won this year's Water Heroes Academy campaign – thanks to everyone who voted for Nairobi," said Laura Brooks, Regional Programme Manager for Tackle.
"This means so much to the Young Leaders from Tackle and is a testament to the amazing work they are doing with Xylem to improve sanitation in Kibera and to end period inequality."
The Kibera project was among five football and water projects from the Xylem Water Heroes Academy network, spotlighting inspiring young leaders in Bangalore, Barranquilla, Nairobi, Tacloban City, and Washington D.C.
Nairobi emerged top from a vote that opened on November 3 and closed on November 17.
"We are using football drills to create awareness to tell people about how to overcome or solve the water challenges," said Mercy before the vote opened.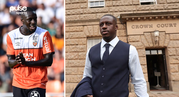 Benjamin Mendy has filed a claim against Manchester City for not paying his £100k-a-week salary during the sexual assault allegations which he was cleared of.
"Water is at the root of everything. We need water to cook, clean, and bathe. Every time a girl is experiencing her menses, she needs water to drink and to clean herself," Pauline weighed in.
She added: "Through the project, we have shown society how to use clean water, how to reuse water, when to dispose of water, and ways of treating water."
Launched in 2021, Water Heroes Academy is a joint initiative by Manchester City's global community programme, Cityzens Giving, and Global Water Technology Partner, Xylem, empowering young leaders to tackle water challenges in their communities using the power of football.
Follow Pulse Sports WhatsApp channel for more news.