The Frenchman  has hinted that he could attempt to buy the club in the future after seeing his company, GF Biochemicals, become a hit.
Former Arsenal midfielder Mathieu Flamini has hinted that he could attempt to buy the club in the future after seeing his company, GF Biochemicals, become a hit.
The Frenchman co-founded the company alongside business partner Pasquale Granata in 2008. Since retiring in 2019, Flamini has amassed a huge fortune after the firm became the first in the world to mass-produce levulinic acid.
The fuel it uses is made from plant waste which can be used to create plastic in an environmentally friendly way.
"We founded GF Biochemicals with the ambition of finding sustainable alternatives to oil-based products," Flamini previously said.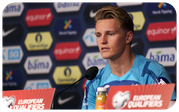 Arsenal captain Martin Odegaard has said that leaving Real Madrid to join Arsenal was the greatest decision for him.
After being appointed chief executive of the company, the ex-Gunners ace has received a boost to his net worth.
In 2020, Forbes estimated that his and Granata's stakes in the company were worth £10 billion each - a whopping 30 times more than the net worth of Cristiano Ronaldo.
The 39-year-old made over 420 senior appearances throughout his career, with over half of them coming at Arsenal. He won three FA Cup titles, in 2005, 2014, and 2015, and was a Champions League runner-up in 2006.
After spells with AC Milan and Crystal Palace, the Marseille native ended his career with Getafe. However, Flamini has hinted at the possibility of returning to the Emirates Stadium, but at board level.
"Football is the No.1 sport, it is driving so much attention, the hot issues of this world should also be on the agenda of the governing bodies," he told The Athletic.
"It's a world that I belong to. If there is the right opportunity at the right time and the right discussion, if I meet people who have the same vision and mindset and desire to use football for a purpose, I would love to," Flamini continued.
"Obviously those clubs [OM, Arsenal and AC Milan] have a special place in my heart. I never forget where I come from. In life, you never know but it's all about the right opportunity. I'm a real believer in the right time, right place, right people.
"We'll see what the future is made of. I'm a believer. If you want something very much, the universe usually brings it to you. Let's see what the universe will bring."
Follow our WhatsApp channel for more news updates.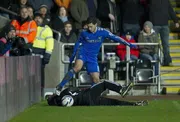 The ball boy that Eden Hazard kicked back in 2013 in Chelsea's loss to Swansea City has gone on to become filthy rich.