Peres Jepchirchir has explained why she is not shaken by the rise of strong marathoners including Sifan Hassan and Tigst Assefa among others.
Reigning Olympic Champion Peres Jepchirchir is not afraid of what the future holds for her despite the rise of upcoming marathoners who will be keen to dethrone her.
In the recent past, there has been tremendous rise in strong marathoners including Sifan Hassan who made her debut this year and Tigst Assefa who broke the world record at the Berlin Marathon.
Double world record holder Faith Kipyegon has also hinted on making a switch to the marathon but did not precisely say when.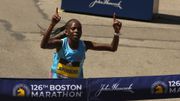 Olympic champion Peres Jepchirchir has narrated how she 'accidentally' made her marathon debut at the Kisumu Safaricom Marathon.
However, Jepchirchir still believes she is destined for greatness and she welcomes the challenge with open arms since it helps her to push herself beyond limits.
Speaking to World Athletics, the 2021 New York City Marathon said that she prays for good health from God and she noted that she believes the only control she has is over herself.
"I can say it's good to have such people because they are strong, they will push hard and it helps me to work extra hard, knowing the strong people are coming. I pray for good health," she said.
Meanwhile, the 2022 Boston Marathon had suffered an injury setback late last year that saw her miss out on the New York City Marathon.
However, she has since announced her return to competition and she started off her campaign at the London Marathon where she finished third.
Jepchirchir then competed in two half marathons, the Great Manchester Run and finished second behind Hellen Obiri and the Great North Run where she won the race.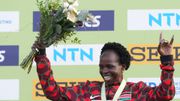 Peres Jepchirchir has explained how her six-year-old daughter, Natalia, is motivating her to retain her Olympic Marathon title.
She then also competed at the World Road Running Championships and won her third successive title. She will be heading to the New York City Marathon later this year hoping to continue her winning streak.