The Kenyan athletes will enjoy a tax-free income at home from their winnings at the 2023 World Championships due to a number of reasons
A lot has been reported about the millions Kenyan athletes have earned from the just-concluded 2023 World Athletics Championships in Budapest, Hungary.
There was between $70,000 (Ksh10,178,000) and $5,000 (Ksh727,000) to be awarded to the top eight finishers in individual events at the World Championships with the three medalists earning $70,000 (Ksh10,178,000), $35,000 (Ksh5,089,000) and $22,000 (Ksh3,198,800) respectively.
Athletes who finished fourth and fifth received $16,000 (Ksh2,326,4000) and $11,000 (Ksh1,599,400) respectively while the sixth, seventh, and eighth-placed runners were awarded $7,000 (Ksh1,017,800), $6,000 (Ksh872,400), and $5,000 (Ksh727,000) in that order.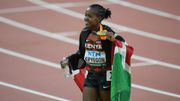 Kipyegon showed once again how lucrative athletics can get after seeing her bank balance swell big time in a span of three months
It means most Team Kenya members who reached the final of their events earned something from Budapest with double gold medal winner Faith Kipyegon commanding the highest (Ksh20,356,000) followed by 800m gold medalist Mary Moraa (Ksh10,178,000) with silver winners Emmanuel Wanyonyi, Beatrice Chepkoech and Daniel Simiu each walking away with (Ksh5,089,000).
While the athletes will not take home all the amounts as they will have to share with some members of their management teams, the taxman will not get a share of their earnings.
Kenya Revenue Authority (KRA) stopped taxing athletes' earnings in 2013 following hue and cry from the runners over what they termed punitive double taxation.
Former Cherengany MP Wesley Korir, a two-time Los Angles Marathon and 2012 Boston Marathon champion, lobbied Parliament to pass a legislation requiring KRA to give concessions to athletes when he was elected in 2013.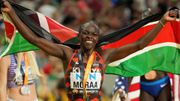 Moraa went into the race unbeaten so far this season and Kenyans had hope that she would deliver the third gold medal.
"We need to protect our athletes against harassment from Kenya Revenue Authority. Right now, athletes who participated in international events 10 years ago are being sent letters asking them to pay taxes. Where was KRA 10 years ago? We need to protect our athletes against double taxation," Korir told Parliament at the time.
"I have run in America and 30 percent tax is taken by the government while 15 per cent is taken by the agent. When I come here, the country tells me that I have to pay another 30 per cent. Where will those athletes get money? We are demoralising them instead of helping them to become who they are."
Since then, Kenyan athletes have enjoyed a tax-free income at home from their winnings abroad. However, the amounts are subjected to taxes in the countries where the competitions are held.
"They are taxed out there where the competitions happen. They pay withholding tax from what they earn and it was on this basis that there were exemptions in Kenya to avoid what was being called double taxation," said a source from KRA who requested anonymity since he is not authorised to speak on the matter.
"However, when they invest the money here, any income that comes from it must be taxed," he added.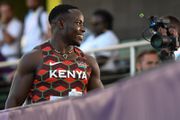 Omanyala opted to stay optimistic after the match, wearing a broad smile, as if to suggest that it was not all doom and gloom considering the amount of money he is set to earn.
Kenya won 10 medals in Budapest (three gold, as many silver and four bronze) while they had eight other athletes who finished between fourth and eighth positions, meaning 18 members of the team earned at least Ksh727,000 in Hungary.