Chepkirui is just fresh from competing at the Berlin Marathon where she finished second.
Sheila Chepkirui, the 2023 Berlin Marathon runner-up, is not sure about representing Team Kenya at the 2024 Paris Olympic Games.
After her triumph at the Berlin Marathon, the 32-year-old noted that she will take a rest before thinking about what she wants to do next year.
In an interview with Capital Sport, Chepkirui disclosed that the Olympic Games are not on her mind at the moment.
"I'm yet to decide whether I'll want to compete at the Olympic Games next year. I want to go and have a rest first and then I will see what next," the mother of one said.
Speaking about her Berlin Marathon victory, she noted that she was not under pressure, and that worked in her favour since she was able to keep her calm until the race ended.
"When I go to compete…I never have any pressure. I go to run my own race because I know everyone is prepared…I just believe in myself and I know I'm capable of anything," she said.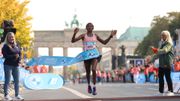 Assefa completely destroyed Brigid Kosgei's world record and her efforts will be awarded handsomely.
Chepkirui made her marathon debut in the streets of Valencia last year where she finished an impressive third.
She was expected to compete at the Boston Marathon earlier this year but could not make it in time due to visa challenges.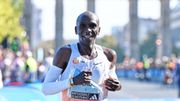 Eliud Kipchoge celebrated his fifth Berlin Marathon win by dancing joyfully to Neil Diamond's "Sweet Caroline" at Metropol Nightclub.
The Kenyan then proceeded to the London Marathon where she finished an impressive fourth, just in her second marathon.
She is yet to represent Kenya at the Olympic Games and getting the chance next year will also mark a milestone in her career.