World 100m champion Lyles has explained how his victory at the 2023 World Championships was cooked way before the final
World 100m champion Noah Lyles has explained how his 100m win at the 2023 World Championships in Budapest, Hungary was all cooked at the semi-final stage.
In what he describes as the 'hardest part of all rounds,' Lyles says he had to ensure he is prepared mentally, get a good start and the best time to seal a ticket to the final where all that counted was a win.
"Semi-finals of the World Championships easily one of the hardest parts of all the rounds. Everybody has to put their lives on the line to get the fastest times to get them to the final," Lyles said in a sneak peak of Episode 2 of his documentary 'UNTITLED The Noah Lyles Project.'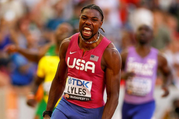 Noah Lyles defends his critique of the NBA's 'world champion' title, sparking discourse, but remains unapologetic about his stance.
"I remember jumping onto the car with Diana the night before and she was like you are going to be powerful, explosive. Everything your will need will happen in the semi-final. And I was like 'you are right' I just have to trust."
"The coach came out to me and he's like stop trying to do things the old way. You have to trust and believe that this new method we are doing is going to work.
"The gun goes off and I take my first three steps and I am like this right here is what I have trained all year for. We reach the 60m mark, the race is already mine. It is was 9.87 and I was like 'yeah I have more for you."
Lyles clocked 9.87 to cross the finish line first with Japan's Abdul Hakim Sani Brown in second place in 9.97 while Kenya's Ferdinand Omanyala completed the podium after clocking 10.01 in the semi-final heats.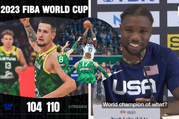 The USA men's basketball team loss to Lithuania at the FIBA World Cup has been met with several reactions online, and many believe Noah Lyles should be apologised to for his 'world champions' shade.
Only the first two athletes gained automatically entry into the final and Omanyala had to endure an agonising wait before he went through as one of the two fastest losers.
Lyles went on to captured the 100m world title after clocking in 9.83 in the final to cement his status as the world's No 1 sprinter.
Botswana's Letsile Tebogo won silver in 9.87 ahead of Great Britain's Zharnel Hughes while Omanyala finished a disappointing seventh.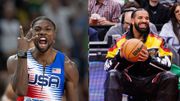 The rapper was among those who dismissed the newly-crowned 100m and 200m world champion after he said NBA players should not refer to themselves as 'world champions'
Lyles would later defend his 200m title before he anchored Team USA to the 4x100m relay gold to walk out of Budapest with three gold medals.