The rapper was among those who dismissed the newly-crowned 100m and 200m world champion after he said NBA players should not refer to themselves as 'world champions'
Rapper Drake and NBA stars have fired back at three-time world champion Noah Lyles over his 'world champions' rant at the weekend.
After winning the 200 at the World Athletics Championship last Friday, Lyles had some words for NBA players on what he perceived as a false sense of global success.
"I have to watch the NBA Finals, and they have world champion on their heads," Lyles said.
"World champion of what? The United States? Don't get me wrong. I love the US at times. But that ain't the world. We are the world. We have almost every country out here fighting and thriving and putting on a flag to show that they are represented. There ain't no flags in the NBA."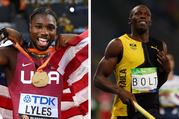 Usain Bolt has aimed a brutal jibe at Noah Lyles after the American failed to break his records in Budapest as he had promised
Drake got wind of his comments and fired some shots at the 26-year-old.
"He thought this speech was gonna be so hard in the mirror the night before, now the whole league doesn't rate [you]," said the 36-year-old Canadian-born singer.
NBA players also waded into the matter, responding to the sprinter the best way they know how. Phoenix Suns duo Devin Booker and Kevin Durant, De'Aaron Fox (Sacramento Kings), Draymond Green (Golden State Warriors), Bam Adebayo (Miami Heat), and more commented on the video on Instagram.
"Somebody help this brother," Durant said. "Lol, is somebody going to tell him??" Adebayo typed back. Fox then offered his thoughts on the matter, wondering why Lyles put so much energy into the thought, adding, "Why bro care so much?"
Juan Toscano-Anderson of the Utah Jazz said the NBA features players worldwide. "Last time I checked, the NBA was the best competition in the WORLD," he stated.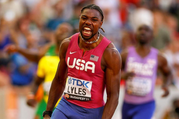 Noah Lyles feels runners are not properly being "presented to the world" compared to other sports such as the NBA and NFL.
Besides the 200m, Lyles also won the 100m and anchored the US men's 4x100m relay team to gold at the 2023 World Championships in Budapest, Hungary.