The 16th edition of the Porto Half Marathon has attracted athletes from 78 countries and Kenya's Boit is among the top runners
Kenya's Mike Kiptum Boit and home talent Dulce Félix headline elite fields for the 16th edition of the Porto Half Marathon, scheduled for Sunday.
As quoted by race organisers, the event will feature athletes from 78 countries. The men's course record currently stands at 59:30 and was set by Eritrea's Zersenay Tadese in 2011 and it will be an uphill task for Boit who will be seeking to lower it.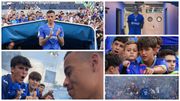 Mason Greenwood may have been unwanted in England but in Spain, Getafe fans and the club have pulled all stops to ensure his stay is enjoyable.
Boit won the race in 2018 and he will be making a return to the familiar course with the hope of replicating his performance.
His strong opposition will come from compatriot Evans Kipchirchir Sambu, who finished third last year, and will be making a return with the hope of winning.
Anthony Kimutai will also pose as a threat since he is coming from achieving a win in Lille, this year, with a promising 1:00.43.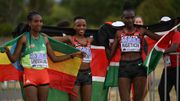 The association noted that the preparations have not advanced sufficiently for Medulin and Pula to host the event on February 10 next year, as scheduled earlier on.
In the women's field, Caroline Chepkemoi, who ran 1:09.13 hours at the Lisbon Half Marathon in 2019, is the favourite, while Dulce Félix, Rafaela Fonseca, and Daniela Cunha lead the home charge in the race.
Jorge Teixeira, general director of Runporto, believes that changing the circuit could result in better results for athletes, a "much flatter and more competitive" route, and considers that obtaining a race record "is difficult, but not impossible."
"We hope that this year, with the small change in the route, which, for me, is much flatter and more competitive, will translate into the result next Sunday," he said.