Krop finished seventh to narrowly qualify for the final scheduled for Sunday.
World 5000m silver medallist Jacob Krop has insisted that Thursday night's 5000m Heat at the ongoing World Championships in Budapest, Hungary was not a walk in the park.
The 22-year-old finished seventh in Heat Two, to qualify narrowly for the 5000m final which is scheduled for Sunday, August 27 at 9:20 p.m. East African Time. He clocked 13:33.63 to cross the finish line.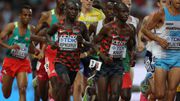 Kimeli now exits the World Championships with no medal after finishing eighth in the 10,000m earlier on.
In a post-race interview, he recounted how the race started off at a slow pace which caused burnout and he was not able to push himself extra hard. He revealed that it was the major reason why he was forced to settle for seventh place.
"The Heats were like a final!! The major challenge during the race was that it started at a slow pace and only picked up with about 200m to go," he said.
He will be joined by trailblazing youngster Ishmael Kipkurui who also narrowly qualified for the event. Diamond League final winner Nicholas Kimeli and Cornelius Kemboi failed to impress after finishing 14th and 17th respectively.
The duo will be up against some of the greatest 5000m runners the world has ever witnessed and in that final, records might be broken.
Defending champion Jakob Ingebrigtsen and European 5000m silver medallist Mohammed Katir will be in action in what will prove to be a thrilling final. The two are strong men who will be going for the title, forcing the Kenyan dup to dig deep for a win.
However, it is evident that even if they lack a gold medal, Team Kenya definitely has all it takes to finish in the podium bracket.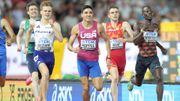 Wanyonyi remained unbeatable as he cruised to the finish line and won in 1:43.83.