Wanyonyi remained unbeatable as he cruised to the finish line and won in 1:43.83.
Emmanuel Wanyonyi will now be Kenya's sole representative in the men's 800m final at the World Championships in Budapest, Hungary.
Competing in Heat Three, it was a do-or-die battle between the trailblazing youngster and Spain's Adrian Ben. However, Wanyonyi remained unbeatable as he cruised to the finish line and won in 1:43.83.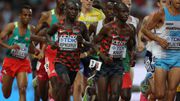 Kimeli now exits the World Championships with no medal after finishing eighth in the 10,000m earlier on.
The Spaniard was forced to settle for second place in a Personal Best time of 1:43.92. The former World Under-20 800m champion will be Kenya's only representative in the two-lap race.
This comes after defending champion Emmanuel Korir and Ferguson Rotich had an unceremonious exit from the 800m in the Heats.
Meanwhile, Heat One had no Kenyan in action and it was dominantly won by Algeria's Slimane Moula who cut the tape in 1:43.93. Botswana's Tshepiso Mashalela finished second in 1:44.14 to also automatically qualify for the final.
Heat Two saw Canada's Marco Arop, the World 800m silver medallist, reign supreme after he cut the tape in 1:44.02. He was closely followed by Algeria's Djamel Sedjati who finished third during last year's edition of the World Championships in Eugene, Oregon. The Algerian clocked 1:44.49.
Kipng'etich Ngeno was also in action in the Heat but he unfortunately faded to finish a distant eighth in the hotly contested race. The Kenyan clocked 1:45.56 to finish behind Great Britain's Daniel Rowden who clocked 1:45.38.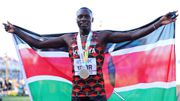 Korir had gone to the competition hoping to defend his title despite the injury setback.