After his win at the Berlin Marathon, news about a street in Berlin being named after him spread like bushfire but that information is false.
Eliud Kipchoge made headlines after winning his fifth title at the Berlin Marathon and news of a street being named after him spread like bushfire.
There was a photo making rounds on social media but the claims have been established to be false. Many would have fallen into the trap of believing that the news is accurate since Kipchoge made history in Berlin, winning the men's marathon in 2:02:42 and surpassing the legendary Ethiopian runner Haile Gebrselassie.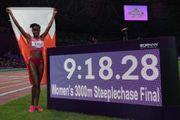 Makueni-born Winfred Mutile Yavi is set to boost her bank balance after clinching gold medals in 1,500m and 3,000m steeplechase for Bahrain at the Asian Games
The Ethiopian previously boasted four wins at the championship but Kipchoge surpassed him to become the only runner in the world to win the title five times.
According to Sports Keeda, after Kipchoge's win, a user shared a post on his X (Twitter) handle and wrote, "Eliud Kipchoge has a street in Germany named after him. He is the GOAT".
However, a section of X users clarified that the image was an edited one. One user, Abuga Makori debunked the news while sourcing a Berlin-based researcher, who first clarified the information.
He said: "There is NO such street in Germany in honour of the Greatest Marathoner of All Time Eliud Kipchoge.
Such recognition can only be found in brands such as Nike and Adidas, says @johnnjenga. However, Kipchoge is cherished everywhere. Congratulations Eliud Kipchoge for making us proud though."
Another X user, John Njenga, had earlier explained why the news was fake. He posted on his handle saying: "This road does not exist currently. It takes a very long time and it is a very long process before any street can be renamed or named after any prominent person.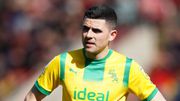 The former Celtic midfielder has announced his retirement from football to focus on his family after struggling with fertility treatment
The only place I have seen names of Kenyan athletes memorialised publicly is at the entrance of @adidas headquarters during a visit there sometime last year. Eliud Kipchoge."
The Media Observer also did their background check and posted on their handle, clarifying why there is no street named after Kipchoge in Germany.
"Legendary Kenyan marathoner Eliud Kipchoge has not been bestowed with the honour of having a street in Germany named after him.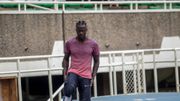 Mark Otieno ended his doping ban earlier this year and he has his work cut out if he has to qualify for the Olympic Games.
To arrive at this conclusion, we discovered that the image was edited. We also contacted individuals situated in Germany. They have offered clarification, confirming that no street in Germany has been named after the marathoner.
The source in Germany has elucidated that the procedure for naming a street after an individual in Germany involves specific requirements.
These requirements may differ from one municipality or state to another within the country. The team also found an article published on September 25, 2023, by Sportskeeda an Indian sports news and entertainment platform that primarily specializes in covering a wide range of sports."