Makueni-born Winfred Mutile Yavi is set to boost her bank balance after clinching gold medals in 1,500m and 3,000m steeplechase for Bahrain at the Asian Games
Kenyan-born Bahraini Winfred Mutile Yavi has earned over Ksh1.4 million in two days after winning two gold medals at the ongoing Asian Games in Hangzhou, China.
Yavi grabbed her first Asiad gold in the women's 1,500m in 4:11.65 on Sunday, over six seconds slower than her personal best of 4:05.54, and then defended her women's 3,000m steeplechase in 9:18.28 on Monday.
The champions of the Asian Games are being awarded $5,000 (Ksh742,500) for gold while silver and bronze medallists earn $3,000 (Ksh445,500) and $2,000 (Ksh297,000) respectively. Coaches and other key personalities are also being rewarded at the event.
That means from her two gold medals, she will bank a combined $10,000 (Ksh1,485,000) from her exploits in Hangzhou.
Yavi stunned the world by winning the 3,000m steeplechase at her fourth World Championships in Budapest in August.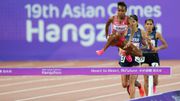 Kenya's steeplechase runners led by world record holder Beatrice Chepkoech could breathe a sigh of relief if their track rival makes good on her promise of trying out other races
She overtook the world record holder Beatrice Chepkoech of Kenya over the final lap, finishing in the fourth-fastest time ever at 8:54.29 with 19-year-old Kenyan Faith Cherotich clinching gold.
From her gold win in Budapest, the Makueni-born runner earned $70,000 (Ksh10.3 million), while she also banked a combined $30,000 (Ksh4.4 million) from winning three Diamond League races this season, showing just how the 2023 campaign has been rewarding to her.
Although she believes she is just halfway to her career peak, the 23-year-old world champion is already considering racing more events beyond steeplechase.
"It means that I'm capable of shifting to different events. I don't need to stay in the steeplechase for a long time. I can graduate slowly, slowly to different events," she said.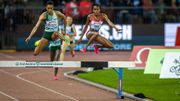 The Kenyan-born Bahraini has beaten Beatrice Chepkoech in all their races in 2023.
"Maybe I'll do 5,000m or 10,000m road races, and in the future maybe even a marathon."
Yavi will be hoping that 2024 is equally rewarding especially given it will be an Olympics year when she will hope to win her first medal at the Games.