Purity Chepkirui made her debut on the global stage in 2021 and to everyone's surprise, she managed to win the women's 1500m and she has shared how that impacted her career.
It was at the 2021 World Under-20 championships that Purity Chepkirui knew she was capable of becoming one of the greatest athletes the world will ever witness.
Competing in the 1500m at the Moi International Sports Center in Kasarani, the 20-year-old put up a good fight to clinch the title and she has never looked back.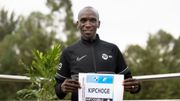 Four-time London Marathon champion Eliud Kipchoge will be returning to his favourite course with the hope of bagging his fifth title.
She disclosed that winning that title was a sign for her to keep going and continue the hot streak of winning races.
"Winning that title in 2021 gave me the motivation to keep going. When I won that gold medal, I realised that anything was possible since I had just started my professional career that same year," she said.
Life after the glamour in 2021 has been a mix of ups and downs for the youngster but she still keeps her head up. She went to the 2022 edition of the event with the hope of defending her title but ended up finishing second behind compatriot Brenda Chebet.
However, she still has a lot of things to rejoice about this season since she competed in the Diamond League Meetings and also made her debut in the senior category at the World Championships in Budapest, Hungary.
"I am officially a senior athlete and I have been to the Diamond Leagues and gained quite a lot of experience from that. I believe I can conquer.
The Kip Keino Classic was also a platform for me to gauge my experience since I was competing with some great athletes," she said.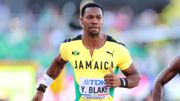 Jamaican sprinter Yohan Blake reflects on a tough season, offers inspirational message, and ranks 11th in the latest World Athletics standings.
She added that she is not afraid of competing in the senior category since she believes in her abilities.
"I'm not afraid of competing in the senior category because I believe in myself…I believe I have the experience and I will extend my winning streak to the senior category," she said.
She prides herself in running with the senior athletes because they are able to push her to greater limits and she manages to achieve a lot of her goals like setting Personal Best times.