Eliud Kipchoge has revealed what the future looks like for him as he builds his career.
Former world marathon record holder Eliud Kipchoge has shared what he wants to achieve going forward in his athletics career.
Speaking on Euro News, Kipchoge explained that his future ambition is to make the world a running world since he believes running is the key to happiness.
Eliud Kipchoge has revealed how he is able to handle his fame and the millions he makes.
The five-time Berlin Marathon explained that he wants to see everybody running since that is one of the ways to unite people.
"My future ambition is to make this world a running world. I trust if all of us can run in the world, we can make this world a happy world…we can unite the world and we can enjoy being in this world," he said.
Follow the Pulse Sports Kenya WhatsApp Channel for more news.
The four-time London Marathon winner has always been an ambassador of running and he has openly spoken about it on his social media handles.
Kipchoge believes that running has a way of uniting the world, solving differences and sharing the passion that brings individuals together.
In one of the posts on his X (Twitter) handle, Kipchoge said: "One of my favourite things about running is that it unites us all. It fades differences and sharing our passion brings us together."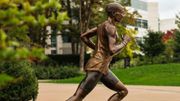 Eliud Kipchoge has been honoured by his sponsor, Nike, with a track under his name and a statue at the headquarters in Beaverton.
"It's great to be back in China where I have the opportunity to meet so many fans who share the same love for running.
"I get so much energy from meeting all of these wonderful people which fills me with motivation when I start my training for my next race."