Eliud Kipchoge has revealed how he is able to handle his fame and the millions he makes.
Five-time Berlin Marathon champion Eliud Kipchoge has shared tips on how best he deals with his life outside of being an athlete and the investment he has made in his foundation.
The 38-year-old has become a household name and fame can sometimes be detrimental to someone's mental health but Kipchoge has mastered the best way to deal with stardom and fortune.
Speaking on Euro News, Kipchoge explained that he first sees himself as a human being and he uses his fame and wealth to inspire the young generation.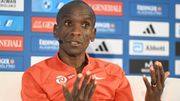 Eliud Kipchoge has given an explanation of the benefits of super shoes and their importance in marathon running.
"First, I treat myself as a human being because fame and fortune are just additions to who I am. I appreciate the two and I use them to inspire the young people," Kipchoge said.
One of the ways Kipchoge has invested his fame and money is by setting up a foundation where he wants to give all children in the world access to knowledge and education.
On his website, Kipchoge explains that he wants children to grow up into healthy adults in a green and breathing world where forests keep our people safe.
Kipchoge added that he wants to contribute and grow the movement in education and environmental protection through the Foundation.
"To raise awareness and to raise finances to build libraries, schools, forests. I was lucky in my life to have access to books and knowledge from a young age. It taught me to value life," he added.
During the interview, Kipchoge noted that in his upbringing, there were few schools and he wanted to change the narrative.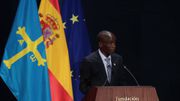 38-year-old Eliud Kipchoge believes he has all it takes to run fast times going forward despite the rise of young marathoners who are keen on dethroning him.
"There was a time I sat down and remembered growing up, we had limited education and that's what made most people fail to prosper.
"In sports, we need to run and breathe good air…that's how I came about my foundation which aims at conserving the environment and education.
"Education is the key to taking people places and it makes one mingle with people and have the knowledge to strike up conversations.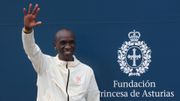 Marathon king Eliud Kipchoge has shared his thoughts on what success is.
"I wanted to build kindergartens and libraries because I believe a good foundation for children is the way to go," Kipchoge said.
Follow the Pulse Sports Kenya WhatsApp Channel for more news.