The Makueni-born Bahraini athlete is in the form of her life after back-to-back steeplechase victories.
Kenyan-born Bahraini Winfred Yavi is proving to be a thorn in the flesh of Kenyan steeplechasers and once again, she upset the duo of world record holder Beatrice Chepkoech and Faith Cherotich at the Diamond League Meeting in Zurich.
Yavi stunned Chepkoech at the just-concluded World Championships and she extended the heartbreak for Kenyans to the Diamond League Meeting in Zurich, Switzerland.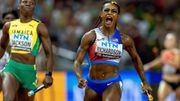 The 23-year-old crossed the finish line in 10.88 ahead of the Jamaican duo of Natasha Morrison and Elaine Thompson.
At the Diamond League, Yavi clocked 9:03.19 to cut the tape first. Chepkoech had to take second place in 9:03.70 while Cherotich finished third in 9:07.59.
Another Kenyan in the race was Jackline Chepkoech who faded to finish a disappointing 12th in 9:27.29. At the World Championships, the 19-year-old also settled for a disappointing ninth in 9:14.72.
Yavi has posed a threat to Kenya's reign in the specialty with her impeccable performances since the season started. She clocked a world-leading time and Personal Best time of 8:54.29 at the just concluded World Championships.
At the moment, the 23-year-old has her eyes maintained on the world record which currently stands at 8:44.32.
In an interview with News of Bahrain, Yavi said: "My time means that I'm in the right progression in what I have been doing. Getting my new Personal Best time makes me believe more in myself and encourages me to work harder.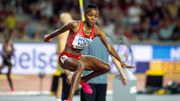 Yavi impressed at the National Athletics Center to win the race in 8:54.29.
"It shows that I am capable of maybe doing a world record. I feel like I have the energy and I can do more with that time."
With her win in Zurich, Yavi will also be looking to bag the Diamond League Final Trophy as she heads to the final leg in Eugene, USA.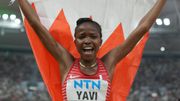 She also has her eyes set on next year's Paris Olympic Games where she will be returning for the second time.