The American is believed to have taken a blade to the neck during the match which left him bleeding so profusely, he had to be rushed to hospital with the game getting abandoned.
An ice hockey player had to be rushed to hospital after suffering a throat injury so horrific, it left traumatised fans in tears.
Adam Johnson is believed to have taken an ice hockey blade to the neck in a freak accident at the match between Nottingham Panthers and Sheffield Steelers at Utilita Arena Sheffield on Saturday evening.
According to one witness who spoke to Mail Online, Johnson tried to skate back to his team after the injury to his throat but collapsed before he made it, prompting panicked scenes as players and medics rushed out to help the stricken star.
Around 8,000 fans saw the nightmare collision before the game was quickly stopped and screens were brought onto the pitch to protect the players involved. The match has since been abandoned.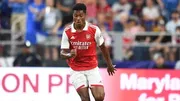 The 18-year-old Arsenal academy graduate, who has even yet to make his debut for the club, was making 10,000 to 15,000 dollars (Ksh 1.5-2.3 million) a night when he was just 15!
Yorkshire Ambulance Service said they were called at around 8.20pm before sending two ambulances and a critical care paramedic - with one man taken to hospital.
Devastated spectators who witnessed the accident were left in tears and hugging one another, with one saying "they'll never get over" what they saw.
"It was horrible to see. People were crying and passing out," another shocked witness added.
The freak accident appeared to have been caused by a Sheffield Steelers' player as he tried to tackle another one of Mr Johnson's teammates.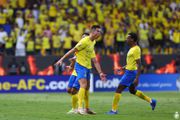 The former  Man United and Real Madrid great has revealed why he 'does not care' after inspiring Al Nassr to a 4-3 win over Olunga and Countinho's Al Duhail.
Footage shows Mr Johnson being struck in the neck by a skate before he then collapses. Bleeding heavily, the hockey star manages to get to his feet as teammates scrambled to help him.
Nottingham Panthers posted on X: "Players are returning to the locker rooms."
The account then provided an update that: "Fans have been asked to leave the building due to a major medical emergency."
Nottingham Motorpoint Arena, which is the Panther's home ground, later posted on X: "Our heartfelt thoughts go out to Adam Johnson, his loved ones, all the Panthers players, staff, fans and the whole ice hockey community, following his horrific injury this evening."
"We were called at 8:21 this evening to the Sheffield Steeler's game at Sheffield arena. We attended a male and sent two ambulances and a critical care paramedic, and we sent one patient to hospital," a spokesperson for Yorkshire Ambulance Service told MailOnline.
Shocked fans were left traumatised by the incident, with many taking to social media to share their horror at the accident.
"Stuff of nightmares at the panthers game tonight, praying for Adam Johnson," One person wrote on X, formerly known as Twitter.
"My 17-year-old has come home in bits, he said he can't un-see what he's seen tonight. He's white as a sheet. My thoughts and prayers are with the teams involved," another wrote on Facebook.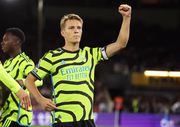 The Norway international has revealed why opting to leave Arsenal for Real Madrid was "the best decision of his career" as he was forced to sever  ties with "the biggest club in the world"
Someone else shared: "My son and I were there, watching play intensely. We just keep hugging each other. A lot of upset folk, so I know we're not alone."
Another wrote on X: "That was undoubtedly the worst thing I've ever seen happen, I'm so sorry. We're all absolutely sick with worry, praying for a miracle."
A fifth added: "Really really hope he's okay and news of his recovery is posted soon. Thoughts and prayers to him and his family at this very anxious time."
Follow our WhatsApp channel for more news updates.