The former  Man United and Real Madrid great has revealed why he 'does not care' after inspiring Al Nassr to a 4-3 win over Olunga and Countinho's Al Duhail.
Five-time Balon d'or winner Cristiano Ronaldo insists that he "doesn't care" about breaking records after cementing his place at the top of the global goalscoring charts for 2023.
With two stunning left-footed strikes, Ronaldo helped Al Nassr beat Michael Olunga's Al Duhail 4-3 in the Asian Champions League on Tuesday.
Despite boasting an incredible 43 goals for the calendar year, the Portugal captain who once claimed that 'records chase him' - has claimed that personal milestones aren't his priority.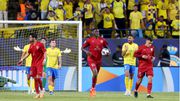 Harambee Stars fans have expressed mixed reactions to Michael Olunga's goal scoring performance against Cristiano Ronaldo's Al-Nassr, making comparisons to his recent profligate performances for Kenya.
"I don't care much about records," Ronaldo said as quoted by the Mirror. "I'm just thinking about enjoying it at the moment. Our team is improving from one match to another.
"Our coach [Luis Castro] and the technical staff are making a great effort to make Al Nassr the strongest team. The key to continuing to achieve records is that I am having fun, and this is a beautiful thing in football and the secret of my continuity.
"I am happy that I scored goals and performed well, but Cristiano is different from others. I work well, and in the end, what I achieve comes with the help of my colleagues and the technical staff and most importantly I am having fun at the moment and helping Al Nassr and the Portuguese team."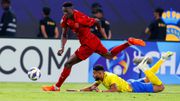 Michael Olunga scored and provided an assist for Al Duhail but it was not enough as Cristiano Ronaldo and Sadio Mane secured all three points for Al-Nassr in the Champions League
The former Manchester United, Real Madrid and Juventus striker's comments come as attendances slump in the Saudi Pro League following a honeymoon period thanks to an influx of talent from Europe over the summer.
Al Ettifaq, managed by Steven Gerrard and captained by Jordan Henderson, were last Sunday condemned to a 1-0 defeat to Al Riyadh in front of fewer than 700 supporters.
Ronaldo has also kept up his end of the bargain, averaging more than one goal per game this season, scoring 20 in 19 matches
Al Nassr are currently third in the league table on 22 points, four behind early pacesetters Al Hilal, who paid PSG £78million to sign Neymar but will have to do without him for the remainder of the campaign after suffering a devastating tear of his ACL and meniscus.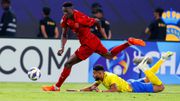 Michael Olunga scored and provided an assist for Al Duhail but it was not enough as Cristiano Ronaldo and Sadio Mane secured all three points for Al-Nassr in the Champions League