Shabana coach Sammy Okoth has called it quits after watching his side get hammered 4-0 by Ulinzi Stars on Sunday
Shabana coach Sammy Okoth has resigned following his team's 4-0 thrashing by Ulinzi Stars at the Ulinzi Complex on Sunday.
Tore Bobe were put to the sword by the soldiers who were 4-0 up inside 64 minutes in what was a one-sided encounter.
Shabana had hoped to build onto their recent good results which saw them beat Tusker FC 1-0 before drawing 2-2 with Nairobi City Stars but it was not to be against Anthony Kimani's men.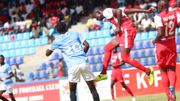 Shabana FC' unbeaten streak ends with a heavy loss to Ulinzi Stars.
The defeat what too much to swallow for Shabana fans who walked off the stands way before the final whistle and it also left a bitter taste in coach Okoth's mouth as he opted to throw in the towel rather than pushing on.
"It is very unfortunate that it happened, I am not okay with whatever happened and I just feel I should let it go at the moment. I should just relax and maybe let somebody else come and do the job because 4-0 is a defeat that I have never ever gone through since I started my career as a coach," said a disappointed Okoth after the match.
"I feel that [resigning] is the right thing to do at the moment because this is a team that has a lot of following and they deserve much better than what happened today.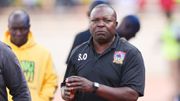 Shabana coach Sammy Okoth remains optimistic despite late-game setbacks, crediting sponsor Bangbet for boosting team morale
"We have been playing well but we have never been defeated as such. I am proud of whatever I have done ever since I got into this team. I think they also know what I have done, getting promoted. I leave feeling proud that they gave me the opportunity and I have done all that was right for the team."
Okoth leaves after handing Shabana in eight Premier League matches where he won one, drew four and lost three.
He joined the club last season and led them to promotion after 17 years in the lower leagues, having finished as champions of the second tier National Super League.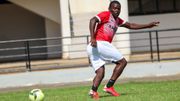 Shabana coach Sammy Okoth has explained how he has taken advantage of specific qualities of some of his players to score goals even when his side is not at their best
However, life has been difficult in the Premier League where a lack of experience and proper quality saw them struggle to win and it was not until their sixth match that they finally ended their winless run.
By then, fans had started calling for his head and after threatening to quit last month, he finally made up his mind on Sunday.
Follow Pulse Sports WhatsApp channel for more news.