The Liverpool manager has given his stance following news that the Egyptian forward is the subject of a big-money interest from Saudi champions Al-Ittihad
Liverpool manager Jurgen Klopp has dismissed reports that the club has received an offer from Saudi Arabia Pro League champions Al-Ittihad for superstar Mohammed Salah.
Media reports this week have claimed that Salah has agreed to a record move to Saudi Arabia, which would make him the highest-paid player in the world.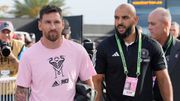 Yassine Chueko is the former US soldier personally selected by David Beckham to follow the Argentina star everywhere as his bodyguard at Inter Miami.
According to the reports, the Egyptian has been convinced to join the influx of world stars to the Middle East and beIN Sports claimed a deal has been agreed with Al-Ittihad.
Sports Zone adds that is for three years and worth £191 million (Ksh34.8 billion) per season, that's almost £3.7m (Ksh675m) a week, tax-free, and more than what both Cristiano Ronaldo and Karim Benzema earn.
However, while appearing before the media for his pre-match press conference on Friday, Klopp said there was no truth in the reports and Salah remains committed to Liverpool.
"We don't have an offer, Mo Salah is a Liverpool player and for all the things we do is essential," he said. "If there would be something, the answer would be no. Mo is 100 percent committed to Liverpool. Nothing to talk about."
Salah signed a new contract with Liverpool last summer which does not expire until 2025 and The Athletic reported that any bid for their talisman will be dismissed out of hand.
Liverpool have no pressure to sell, and earlier in the summer Salah's agent, Remy Abbas, quickly shut down reports of an Anfield exit. He tweeted: "If we considered leaving LFC this year, we wouldn't have renewed the contract last summer. Mohamed remains committed to LFC."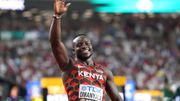 Omanyala was bidding to become the first African man to medal at the global showpiece but Botswana's wonder kid Letsile Tebogo beat him to it.
Salah, who has scored 187 times in 308 games for the Reds, would reportedly not push to leave this summer but is ready to make the move.