Harambee Stars fans have expressed mixed reactions to Michael Olunga's goal scoring performance against Cristiano Ronaldo's Al-Nassr, making comparisons to his recent profligate performances for Kenya.
On Tuesday evening, Harambee Stars captain Michael Olunga had an impressive individual outing for Al Duhail playing against Cristiano Ronaldo's Al-Nassr despite losing 4-3 away in Saudi Arabia.
Olunga registered a goal and an assist to put his good run going individually, but Al Duhail as a club still have some way to go if they are to achieve their season objectives.
The former Gor Mahia striker has now netted six goals for the defending Qatari Stars league champions, which is surely going to make him indispensable for new coach Christophe Galtier, who until last season, guided PSG to a Ligue 1 title.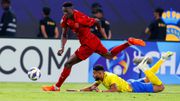 Michael Olunga scored and provided an assist for Al Duhail but it was not enough as Cristiano Ronaldo and Sadio Mane secured all three points for Al-Nassr in the Champions League
His good form at club level has naturally given Kenyans a chance to express their frustrations as to why he has not been as stellar in front of goal for Harambee Stars as he has been for Al Duhail.
One user on X, formerly Twitter said: "Michael Olunga celebrates after scoring against Cristiano Ronaldo's team Al Nassr... Scoring for Harambee Stars is where he draws the line…"
Another user opted to pick the troll card, posting a picture of a man in a helmet covered in dust smiling and frowning.
Another user appeared to aim a dig at his miss against South Sudan at the Kasarani Stadium back in September, rallying him to "with the game against Sudan next time"
"Next time, win us the Sudan game," the user replied to Olunga's post on X.
Another expressed genuine concern, asking, "But what happens to this Olunga when it comes to Harambee Stars?"
Another user suggested that Olunga needs to leave Qatar, a "farmers' league" for Europe in order to play in more competitive environments week in week out like David Beckham did by signing for AC Milan from La Galaxy in 2009 in order to boost his World Cup squad chances.
"For our chances at the world cup honestly @olunga need(s) a European club. From the Beckham documentary he was given an ultimatum if he wants to make it at the world cup squad by Capello. He will need to et out of the farmers league," he wrote on X
Another concerned Kenyan fan expressed his concern by drawing similarities between Olunga and former international Jesse Were, who was a goal machine for Tusker and Zambian giants Zesco, but struggled in front of goal whenever he played for Harambee Stars.
"If Olunga could just score half of the goals he scores for his club in the national team, Kenya would be doing better. But again, what do I really know? Just giving Jesse Were vibes."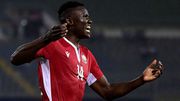 Michael Olunga has faced criticism from a section of Kenyan fans over his lack of goals for Harambee Stars but he brings much more to the side
While he has been in hot form for his club Al Duhail, Olunga has not enjoyed success in front of goal for the national team recently, failing to score in five straight games, since his goal as Harambee Stars lost 2-1 to Iran in March this year.
He, however, has the 2026 World Cup qualifiers to redeem himself when Kenya will start their campaign against Gabon on November 13.
Follow our WhatsApp channel for more sports updates.