James Mwangi was the winner of the 2022 Porto Marathon but his position now remains pending owing to a doping case that is yet to be resolved.
The General Director of the Porto Marathon Jorge Teixeira has announced that the approval of Kenya's James Mwangi's victory during the 2022 edition of the event is still on hold.
According to the Athletics Integrity Unit (UIA), the 29-year-old athlete tested positive for norandrosterone, which is on the list of substances prohibited by the World Anti-Doping Agency.
"He tested positive [in an anti-doping control], but he appealed and to this day, a year later, we don't know anything more. That's why [the title] is still suspended," noted Teixeira, speaking on the sidelines of the 19th edition of the competition.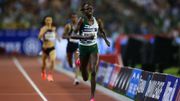 Lilian Kasait has given a candid assessment of her season after completing her doping ban in February.
Mwangi was flagged for the second time by the AIU after having already been accused of the use or presence of testosterone, ending up being suspended between March 2017 and March 2021, without his results having been considered throughout that period.
"[The prize] will only be paid after World Athletics final decision. It's a shame that this happens a year later, but the money is available.
We've already paid everyone, apart from that prize. Naturally, we'll have to adjust the classifications and everyone has to move up one place, but, at the moment, we still don't have any information," noted the director.
The organization awards more than Ksh 700, 000 for victories in the men's and women's general classification, with the renewal of the absolute record yielding more than Ksh 400, 000.
Teixeira also revealed that Vanessa Carvalho inherited the women's triumph, following the disqualification of Kenyan Alice Jepkemboi Kimutai, who had been accused of the consumption of testosterone in September 2022, almost two months before her visit to Portugal.
"The real winner was Vanessa Carvalho. We paid tribute to her homeland, in Famalicão, during the presentation of the local half marathon.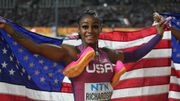 Sha'Carri Richardson has shared how she managed to bounce back this season after her doping ban in 2021.
Alice Kimutai was punished. This just shows that the Porto marathon weighs and wants the sporting truth.
She was checked here and was clean, but she had already tested positive two months before the date. World Athletics informed us that we had to disqualify her," he said.
Follow the Pulse Sports Kenya WhatsApp Channel for more news.