Many fans might be wondering who Ferdinand Omanyala's new coach, Geoffrey Kimani, is, and here is a look into what he has achieved so far.
Africa's fastest man Ferdinand Omanyala has changed coaches ahead of the busy 2024 season that includes the Olympic Games in Paris, France.
Omanyala, 27, has left Duncan Ayiemba and will now be working with Geoffrey Kimani who also has a great reputation as a sprints coach.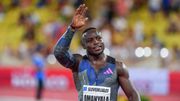 Ferdinand Omanyala has changed his coach as he gears up for the 2024 busy season.
Kimani has achieved some great milestones and he will most definitely work around the clock to ensure that Omanyala bounces back ahead of the Olympic Games.
On his part, Kimani is a former National Olympic Committee of Kenya (NOC-K) Strength and Conditioning lead consultant for Team Kenya, with the main assignment being the delayed 2020 Tokyo Olympic Games.
Before then, he also worked with Team Kenya ahead of the 2016 Rio Olympic Games in Brazil.
At the time, he was tasked with training the national team coaches who had their teams already qualified for the Olympics. Kimani's position was part of the strategic objective of NOC-K under the Elite Athlete Development program.
According to SportsEd TV, he also worked as the strength and conditioning coach for the Kenya Rugby Union where he worked with Shujaa, the national rugby sevens team.
He worked as the strength and conditioning coach of Uganda Sevens and also worked as the speed coach of Mathare Youth Sports Association's Mathare United Soccer team.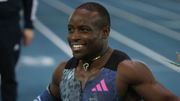 Ferdinand Omanyala has shared an inspiring message as Kenya celebrates Mashujaa Day.
Kimani also assisted in the development of strength and conditioning and worked with specific coaches interested in the field under the National Federations, to nurture upcoming coaches through workshops and training with an eye toward increasing the Strength and Conditioning talent pool in the country.
Kimani has played very vital roles in Team Kenya since he also laid the foundation for the preparation of Team Kenya's squads for the 2021 Commonwealth Youth Games and the 2022 Youth Olympics in Dakar.
Currently, Kimani is a World Athletics and Sprints and Hurdles lecturer and he has now become Omanyala's coach.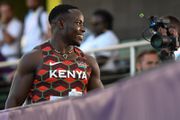 Omanyala has revealed the inspiration behind his decision to launch an athletics academy at St.Joseph's National School, Kitale on Monday.
Meanwhile, Omanyala has had a mixed 2023 season and he will be keen to right his wrongs before heading to the Olympic year. He started off with a successful indoor tour and made a comeback to the Diamond League Meetings where he impressed.
He even became the first Kenyan to win a Diamond League Meeting after putting up a good fight to win the Meeting in Monaco. However, he faltered at the World Championships where he ended up finishing seventh in the men's 100m final race.
However, he bounced back at the Prefontaine Classic, the Diamond League Meeting final, and matched Noah Lyles' time of 9.85 to finish third. Christian Coleman won the race as Lyles finished second.