His latest competition was during the Kip Keino Classic where he finished third in a time of 3:36.92.
Vincent Keter, 21, now feels ripe to represent the country in the senior category at the World Championships slated for August 19-27 in Budapest, Hungary.
Keter, who is the 2021 World Under-20 1500m champion said his main focus this year is to make the cut to the global event.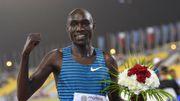 Kipsang, 26, was outsmarted by youngster Reynold Cheruiyot who cruised past him just a few meters to the finish line.
"My focus is to compete at the World Championships in Budapest later this year," Keter said, adding that he also wants to compete in the Diamond League Meetings as he builds up for the same.
The qualifying time for the men's 1500m to the World Championships stands at 3:34.20 and Keter is yet to hit the mark. The fastest time he has set this year is 3:36.50 but he is hopeful of hitting the mark before time lapses.
He revealed that participating in many events will help him gain experience that he will apply when he takes on the world's finest on the big stage.
His latest competition was during the Kip Keino Classic where he finished third in a time of 3:36.92. He opened his season with an indoor tour where he competed in three races.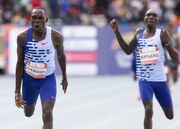 Cheruiyot, 18, shocked the senior athletes when he took top honours after clocking a new Personal Best time of 3:32.01 over the 1500m race.
He finished seventh and ninth respectively in the Meeting de l'Eure and Meeting Metz Moselle Athlelor, both in France. After his tour in France, he went to Sweden and competed in the Folksam GP Stockholm Indoor 2023 where he finished second.
He then ran at the sixth Athletics Kenya meet where he finished second in the 1500m race before going to the Kip Keino Classic.
"So far in the races I have competed in, I have gained experience that I want to apply when I go to the World Championships. I want to continue running in different events so that when I go there, I will do well," he said.
He added that competing in the senior category is not easy but encouraged more athletes to take up the challenge and not give up.
"There's a bit of some pressure there but it's all good. The competition is tough there but the junior athletes should not be afraid of making the bold step," he said.