Usain Bolt has aimed a brutal jibe at Noah Lyles after the American failed to break his records in Budapest as he had promised
In the build-up to the 2023 World Athletics Championships in Budapest, Noah Lyles promised fans he would break Usain Bolt's 200m world record and would run the 100m in 9.65 seconds, the second fastest time ever.
He failed to break those two records, but he went home with three gold medals in the 100m, 200m and the 4x100 relay.
Weeks before the 19th global athletics event, he meticulously details his plans for the competition.
"There is what I will accept, and then there's what my greatest expectation is," he said. "What I will accept is grabbing a medal in the 100m, whatever color, and winning the 200m. My greatest aspiration is that I will grab three golds, gain a world record in the 200m," via NBC Sports.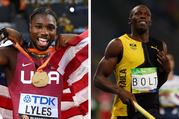 Noah Lyles talked about ways of making Athletics a better sport and he mentioned Usain Bolt.
He achieved most of those goals, but he fell short in the 200m world record. Still, he surpassed expectations in the 100m final. He clocked a world-leading time of 9.83 seconds ahead of Letsile Tebogo and Zharnel Hughes, per World Athletics.
His 200m target was a time of 19.10 seconds, a time that would've broken Usain Bolt's 19.19 seconds he ran at the 2009 World Athletics Championships in Berlin. Lyles won gold in Budapest in a time of 19.52.
Last year, Lyles went into the World Championships looking to defend his title. He won the final in 19.31, breaking Michael Johnson's American record. That is also the second fastest time ever behind Bolt and Yohan Blake's 19.26.
Bolt is the greatest sprinter of all time, and the numbers speak for themselves. In Berlin, he was just 22 years old, and he set the standard no athlete has ever come close to.
He clocked 9.58 seconds in the 100m and 19.19 in the 200m. Many great athletes have come and gone, but his record is still standing.
Shortly after the USA won the men's 4x100 relay gold in Budapest, Bolt had a few words, perhaps for Lyles.
"Still the bolt era," he wrote on his Instagram story.
This means he felt Lyles could break one of his records.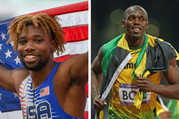 American speedster Noah Lyles has momentous goals, one of which is to shatter Usain Bolt's World Record in the 200m.
Botl has won eight gold medals at the Olympics and 11 gold medals at the World Athletics Championships. He was part of the team that set the world record for the men's 4x100 relay. They registered an astonishing time of 36.84 seconds at the London Olympics in 2012.