The Nigerian ended her 2023 season at the Prefontaine Classic in Eugene, USA and she is now going to chop her money peacefully.
Nigeria's Ese Brume has had a great 2023 season, making a mark in the long jump event and bagging millions from the championships she has competed in.
She opened her 2023 season in the long jump with a win at the Botswana Golden Grand Prix that saw her walk away with $5,000, which is Ksh 736,500. The Nigerian then proceeded to the Montreuil International Meeting where she also bagged more than Ksh 500,000.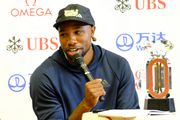 Lyles was astonished at the rate in which many people, including those not associated with basketball spoke, including popular artist Drake.
There was no rest for the 27-year-old who later proceeded to the Golden Gala Pietro Mennea, the Diamond League Meeting in Florence, Italy where she finished fourth to earn $2,000, approximately Ksh 294,600.
Brume then competed at the 69° ORLEN Janusz Kusociński Memorial and Folksam Grand Prix Sollentuna where she finished second and first respectively to walk away with more than Ksh 600,000.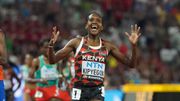 Faith Kipyegon's 2023 dominance, breaking world records, and strong competition set the stage for a thrilling World Athlete of the Year showdown.
She did not rest on her laurels as she went on to finish fifth at the BAUHAUS-Galan, the Diamond League Meeting in Stockholm, Sweden where she earned $1,250, which translates to Ksh 184,125.
After the Meeting in Stockholm, Brume finished second at the Gyulai István Memorial, a Hungarian Athletics Grand Prix which earned her more than Ksh 290,000.
At the Diamond League Meeting in Monaco, the Nigerian finished eighth to earn $500 (Ksh 73,650) before finishing third at the Raiffeisen AUSTRIAN OPEN Eisenstadt which earned her more than Ksh 200,000.
She then proceeded to the World Championships in Budapest, Hungary where she finished second, to earn a silver medal and more than Ksh5,000,000.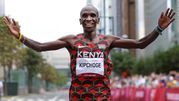 The legendary 38-year-old marathoner has revealed he "cannot wait" for the Berlin race on Sunday.
There was no respite for the World long jump silver medallist as she competed at the Diamond League Meeting in Xiamen and finished third, to earn $3,500.
At the Prefontaine Classic, the Diamond League final meeting, the Nigerian finished second to bag $12,000, which is equivalent to Ksh 1,767,600.