Kenya's best placed marathoner finished eighth in Budapest and Uganda's Victor Kiplangat has claimed the country's runners did not threaten him ahead of Sunday's race which he won
New marathon world champion Victor Kiplangat has delivered a damning verdict on Kenya's men's marathon team after admitting he did not see them as a threat from the off.
Kenya's largely inexperienced team saw dust on the streets of Budapest on Sunday with the best placed being Titus Kipruto, who placed eighth, while Timothy Kiplagat was 14th as Joshua Belet failed to finish the race.
It was yet another embarrassing outcome for a country famed for producing world beating marathoners, adding onto the shame of the women's team, whose best placed runner was seventh on Saturday.
Kenya's team did not inspire confidence when Athletics Kenya fielded Kipruto, who finished fourth at this year's Tokyo Marathon, Rotterdam Marathon silver medallist Kiplagat and Hamburg Marathon silver medallist Belet.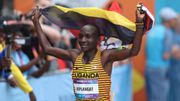 Kiplagat clocked 2:01:52 to cut the tape ahead of Israel's Maru Teferi who clocked 2:09:12 to finish second.
Kiplagat was previously a reserve while Belet made the team for the first time, the two coming in as replacements for London Marathon champion Kelvin Kiptum and three-time World Half Marathon champion Geoffrey Kamworor, who opted out in favour of the more lucrative city marathons.
It seems rivals took notice, at least going by the sentiments of Ugandan Kiplangat, who admitted he was more worried about the Ethiopian team that had defending champion Tamirat Tola, 2022 Amsterdam Marathon winner Tsegaye Getachew, and Leul Gebresilase, the 2022 London marathon silver medallist, more than the Kenyans.
"I was worried about Ethiopians in the race," Kiplangat told Nation in Budapest.
"I knew the world champion Tola would pose a big threat, so I chose to stay with him at the front for long spells. My focus was to win gold here and I thank God it has come to pass. I feel good to have reclaimed the title (Stephen) Kiprotich won for Uganda in 2013."
Kiplangat clocked 2:08:53 to claim victory ahead of Maru Teferi of Israel (2:09:12) with Gebresilase completing the podium after timing 2:09:19. Defending champion Tola was among 25 runners who did not complete the race due to the scorching heat that made matters tough for the participants.
"It was too hot here. I kept pace with the leading group made up of Ethiopians and Ugandans but I started struggling in the hot weather and I slowed down to ensure I finish the race," Kipruto said.
Kenyan men have had it rough since Daniel Kirui won gold in 2017, missing out in 2019, 2022 and now 2023.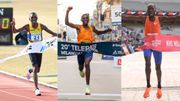 Kenya last won the men's marathon gold in 2017 and the weight of expectations is on Titus Kipruto, Timothy Kiplagat and Joshua Belet against the seasoned Ethiopians.
Most of the country's big hitters have also opted against featuring in the World Championships in favour of better paying city marathons, robbing Kenya of a formidable team.