Fred Kerley and Marcel Jacobs failed to impress at the 2023 World Championships in Budapest, something that might have forced them to change coaches.
Reigning Olympic champion Marcel Jacobs has landed a new coach ahead of his title defense campaign at the Paris Olympic Games in 2024.
Changing coaches will also see him relocate from his home country of Italy to Florida. According to NBC Sport, the 28-year-old will be coached by Rana Reider.
Reider's athlete group in Jacksonville has included 2022 World 100m bronze medalist Trayvon Bromell.
Previously, the Italian was coached by Paolo Camossi for several years. The tactician guided Jacobs to take the delayed 2020 Olympic title in the 100m and it is clear Jacobs will not be working with him as he gears up to defend his Olympic title.
On his part, Reider is a controversial coach who has landed himself in trouble most of the time. In May this year, Reider agreed to serve one year of probation, while continuing to coach, in resolving a case with the U.S. Center for SafeSport.
The center handles allegations of emotional, physical, and sexual abuse in Olympic and Paralympic sports. The center has not published details of Reider's case.
The attorney wrote that Reider acknowledged a "consensual romantic relationship with an adult athlete." The attorney wrote that "Reider was not found in violation of any other sexual misconduct claims" and that his case was closed.
Meanwhile, former World Champion Fred Kerley also indicated in social media posts that he is now being coached by 1992 Olympic 400m gold medalist Quincy Watts.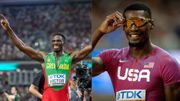 Victor also believes that he can beat Kerley in the 1500m and he even dared to bet Ksh 7,305.
Kerley was also eliminated in the 100m semifinals at last month's World Championships and will be seeking a comeback next year.
"Choosing to make changes is always risky, even riskier during a year like the Olympics. I felt that I needed to bet on myself.
I needed to prove to myself that I was all in and that meant seeking the guidance of COACH WATTS I'm entrusting him to bring out the best version of myself in the most important athletic year of my career. Ya'll ready?" the post read.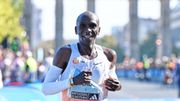 Eliud Kipchoge celebrated his fifth Berlin Marathon win by dancing joyfully to Neil Diamond's "Sweet Caroline" at Metropol Nightclub.
Kerley, 28, has trained under Grenada's Alleyne Francique since he sprinted for Texas A&M. Watts, an assistant at USC, also coaches Olympic and world 400m hurdles medalist Rai Benjamin.