The Kenyan was in a class of his own as he shrugged off his rivals to claim a second straight win at the Frankfurt Marathon on Sunday
Kenya's Brimin Misoi effortlessly defended his Frankfurt Marathon title after running on his own for most of the race in the German city on Sunday.
Misoi, who took the lead in the early proceedings of the race put in a brilliant performance to scorch his rivals, who could not match his tactics and pace.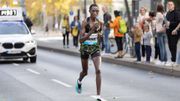 Misoi will be making a return after his dominant victory during last year's edition where he cut the tape in 2:06:11.
The Kenyan clocked 2:04:53, a new personal best, after smashing his previous PB by at least two minutes. Misoi had won last year's event in 2:06:11.
Ethiopian duo Asefa Mulugeta Uma (2:06:47) and Guye Adola (2:07:44) finished in second and third positions respectively after failing to trouble the Kenyan.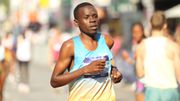 More than Ksh 15 million has been set aside for the top 10 finishers at Sunday's Frankfurt Marathon.
It was not a good outing for 2021 Berlin Marathon Adola who went toe-to-toe with Misoi before the Kenyan sprinted off in the latter stages of the race.
Adola lined up with a Personal Best time of 2:03:46 to his credit but struggled with the pace of the race as the light showers in Frankfurt looked to have worked against him.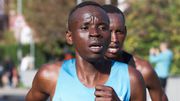 The Kenyan runner finished second on his debut in the German city last year and want to go one better in 2023
Misoi had no such troubles as he kept pace with the pace makers early on and by the halfway mark, it was clear that he was the man to beat.
As it turned out, he maintained his form to claim a second straight win which will earn him over Ksh4 million for his efforts.
Follow Pulse Sports WhatsApp channel for more news.