Fans who could not be in the streets of Berlin to cheer their favourite athletes have not been left out.
The Berlin Marathon takes place on Sunday, September 24 with millions of athletes taking on the course with the hope of achieving their targets.
Fans who could not be in the streets of Berlin to cheer their favourite athletes have also not been left out since there will be a live stream and TV coverage and live results of the same on Sunday.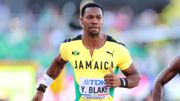 Jamaican sprinter Yohan Blake reflects on a tough season, offers inspirational message, and ranks 11th in the latest World Athletics standings.
Team Kenya will have it easy to follow the race since it will be live-streamed on Nation Media Group's NTV channel from gun to tape. The event will start at 9:50 a.m. East African Time with the men's wheelchair.
On their part, Flo Track will carry the Berlin Marathon Livestream for viewers in the United States, Australia, New Zealand, the Baltics (Estonia, Latvia, Lithuania), Ireland, Italy, Turkey, and the United Kingdom.
Eurosport 1 and RBB will offer TV broadcasts. Eurosport 1 will air the BMW BERLIN-MARATHON from 9:00 a.m. to 12:00 p.m., as well as provide a live stream on Discovery+ for viewers in Germany and Austria. RBB will broadcast the event from 12:00 p.m. to 2:30 p.m.
A list of all national and international TV broadcasters is available by clicking here.
Meanwhile, this year's event has attracted a record 47,912 runners from 156 countries including Eliud Kipchoge who will be looking to shatter his own world record of 2:01:09.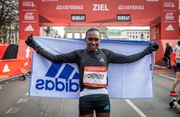 Kenyan Sheila Chepkirui and Ethiopian Tigest Assefa gear up for the Berlin Marathon showdown, aiming to break records and secure Olympics
He will face stiff competition this year, notably from 12 men with personal bests under 2:06, including compatriot Amos Kipruto.
On the women's side, defending champion and course record holder Tigist Assefa leads the pack and she will be challenged by Sheila Chepkirui, Tigist Abayechew, and Workenesh Edesa, all of whom have personal bests under 2:19.